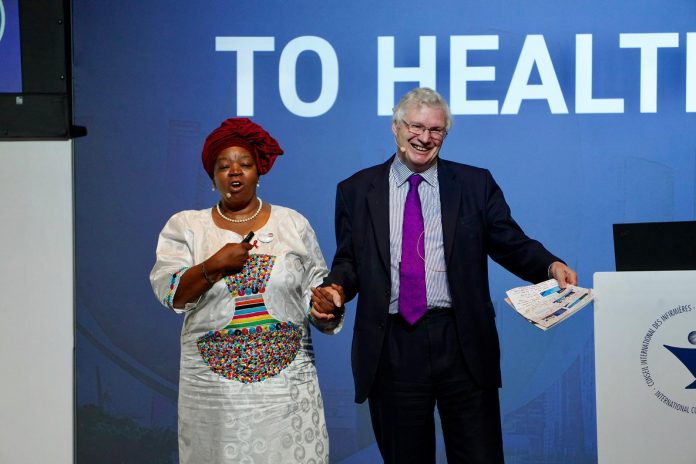 This article was written by Lord Nigel Crisp and Professor Sheila Tlou, Co-Chairs of Nursing Now.
Lord Crisp was the Chief Executive of the NHS in England and the Permanent Secretary of the UK Department of Health from 2000 to 2006. Professor Sheila Tlou is a nurse, specialist in HIV/AIDS and women's health, and a nursing educator. She was the Minister of Health of Botswana from 2004 to 2008.
For many people living in Commonwealth countries, nurses are the only health professionals that they ever see. A shortage of health workers generally means that nurses are taking on a wide range of roles, and yet continue to be undervalued. 
A study carried out in 2016 showed that more than half of the world's health workforce were nurses, but that they were routinely undervalued and underutilised in the sense of not being able to work "to the top of their licence." Very well trained nurses in some countries are still not recognised as well-educated professionals able to practice in their own right. This is an extraordinary waste of talent and commitment, as well as a waste of resources.
The study, The Triple Impact of Nursing, argued that much more should be done to enhance the role of nurses and enable them to work to their full potential. A small percentage increase in what the 24 million nurses globally do would lead to an enormous improvement in health care. Moreover, investing in nursing would have the triple impact of improving health, promoting gender equity and strengthening local economies.
Empowering nurses is one of the most impactful things we can do to improve health globally.
The HIV/AIDS epidemic in South Africa only started to come under control when nurses were authorised to start patients on antiretroviral treatment, meanwhile nurses in some of the Pacific Islands are playing a leading role in tackling obesity and related diseases, while in Jamaica, they are tackling domestic violence and violence against women. These nurses are in the vanguard of a change that is happening across the world.
We launched Nursing Now global campaign in 2018, with the aim of improving health by raising the profile and status of nurses. The campaign has taken off in an extraordinary way, and today there are more than 650 Nursing Now groups established in 120 countries. They have all been established by local people, with their own resources and all are focused on local priorities.
A number of Commonwealth governments have taken up the cause…
The President of

Pakistan launched Nursing Now with promises of investment in nursing, and has started a

series of development programmes.

The Government of Uganda supports the objectives of the Nursing Now campaign and is

developing new policies for nursing to improve the national

health service.

The Jamaican Health Minister moved the motion at the World Health

Assembly that 2020 should be officially the Year of the Nurse and the Midwife. 
2020 is the 200th anniversary of Florence Nightingale's birth and the Year of the Nurse and the Midwife is a wonderful opportunity to celebrate what nurses do day in, day out around the world – whether at the front line in dealing with the coronavirus (Covid-19), looking after the elderly in their own homes, or running clinics and operating theatres.
2020 is also a chance to re-evaluate the role of the nurse and recognise that today's nurses combine all the caring and compassion of the past, with even greater education and skills. They can play a far larger role in primary care and in running clinics for long term conditions like diabetes, and dementia. Advanced nurse practitioners can be first responders to emergencies and prescribers in hospital and specialist nurses can bring all their expertise to bear in providing holistic care for their patients.
Forward-thinking Governments and health systems around the world are starting to act on the evidence and invest in developing and empowering their nurses. The Nightingale Challenge offers employers of nurses and midwives the opportunity to support their staff by investing in leadership training to equip them with the skills needed to play an even bigger role in providing access to health for populations around the world. To date, over 27,000 nurses and midwives have been enrolled in Nightingale Challenge programmes around the world.