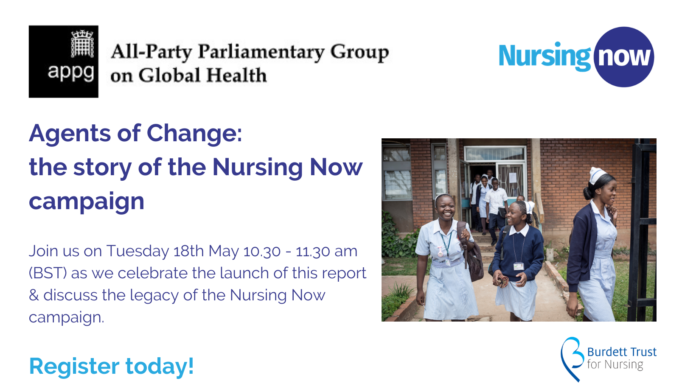 Please join us for the launch of the Nursing Now final report on Tuesday 18th May 10.30-11.30 am (BST)
The Nursing Now campaign was launched in 2018 following the publication of the Triple Impact report by the APPG on Global Health. The campaign was to run for three years but because of the COVID-19 pandemic, it was extended for 6 months and will end at the end of May 2021.
The final report on what the campaign has done and what has been achieved will be launched on May 18th fittingly in a joint event between the APPG on Global Health and Nursing Now.
Please join us to hear about this vibrant global campaign and its legacy!
Chair: Baroness Mary Watkins, Alternate Chair for Nursing Now campaign board
Speakers: Lord Nigel Crisp and Professor Sheila Tlou, Co-Chairs of the Nursing Now campaign board, Dr. Barbara Stilwell, Executive Director, Nursing Now, Munashe Nyika, young board member of Nursing Now campaign board, Charlotte Jakab-Hall young nurse, Nightingale Challenge participant.