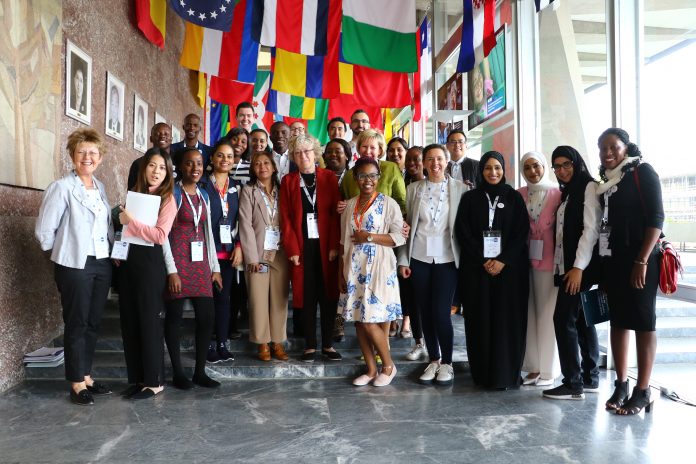 Please note that applications are now closed.
Following the success of the first pre-World Health Assembly workshop held in Geneva in May this year, Nursing Now is delighted to open applications for its second pre-WHA Workshop.
In partnership with the World Innovation Summit for Health, the International Council of Nurses and Sigma Theta Tau International, Nursing Now will host a pre-World Health Assembly Workshop which will take place over the course of a week in Geneva in May 2020. 
The aim of this event is to help nurses and midwives at the start of their careers to better understand the importance of international health policy and how to influence it.  
Among key topics to be discussed will be:
The role of nurses and midwives in achieving the Sustainable Development Goals, including Universal Health Coverage, 

The impact of the world's first State of the World's Nursing report, and 

2020 International Year of the Nurse and the Midwife. 
Who should apply?
Applications are invited from nurses and midwives in all global regions, however applicants must:
be employed, qualified for 5 years or less

have a valid passport to the end of 2020

speak English fluently

hold their own bank account

provide a letter of permission from their employer

provide an academic reference
How to apply
Please submit an up to date CV, that includes your place of work, year of qualification and qualifications obtained. 
Applicants should include a statement of no more than 300 words explaining why they should be selected for this event and how the knowledge gained will be used in practice. 
Additionally, applicants should answer the two questions below with answers of no more than 300 words each: 
In what ways might the State of the World's Nursing report be significant to your country's health systems?

How might the Year of the Nurse and the Midwife impact the future of the nursing profession in your country?
Participation and financing 
Financing is available for air fares, visas, meals and accommodation. Applicants should ensure that they have permission to be absent from their posts for the duration of the programme. Please include with your application a letter from your manager stating that you have permission to attend the programme.
Participants are requested to be available from 14th – 20th May 2020. Meals and accommodation will be paid for from the night of 14th May until and including 20th May (six nights), depending on flight availability. All accommodation outside of these dates will be payable by participants themselves. 
Help will be given to obtain visas as needed.
Applications will close at 24.00 UTC 18th December 2019 – no applications will be accepted after this deadline. Please note that incomplete applications will not be processed.
Please note that applications are now closed.