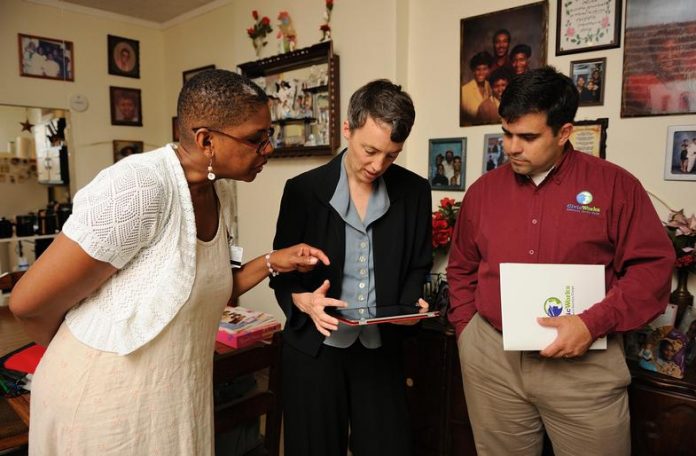 Like other countries, the USA has a growing problem of chronic diseases associated with ageing but does not yet have a system to effectively manage them. The designers of Community Aging in Place, Advancing Better Living for Elders (CAPABLE), a home-based care programme, make the important point that improving health largely needs to be done outside of health care facilities.
People with functional limitations and chronic conditions are four times more likely than the general population to be among the costliest 5% of health service users. Yet despite their reliance on services, their needs are rarely addressed in medical visits.
The CAPABLE programme was established by the Johns Hopkins School of Nursing in Baltimore to tackle this problem. It is one of a number of community schemes funded by the Center for Medicare and Medicaid Innovation. It aims to reduce the impact of disability among low-income older adults through a focus on individual capacities and home environments.
The programme uses an interprofessional team (an occupational therapist, a registered nurse and a handyman) to help participants achieve goals they set. For example, it provides assistive devices and makes home repairs and modifications that enable participants to navigate their homes more easily and safely.
The team from Johns Hopkins has developed a number of tools not just for replicating this type of programme anywhere but also for evaluating its effectiveness across a number of criteria, including health impact and cost-effectiveness.
Results
The programme has already achieved impressive results. A demonstration project enrolled 281 adults aged 65 and older who: were dually eligible for Medicare and Medicaid and also had difficulty performing activities of daily living (ADLs). After completing the five-month programme, 75% of participants had improved their performance of ADLs. Participants had difficulty with an average of 3.9 out of 8.0 ADLs at baseline, compared to 2.0 after five months. Symptoms of depression and the ability to perform instrumental ADLs such as shopping and managing medications also improved.
CAPABLE has already been reviewed in articles in Health Affairs in both 2016 and 2017.
The following figure sums up the benefits of the approach: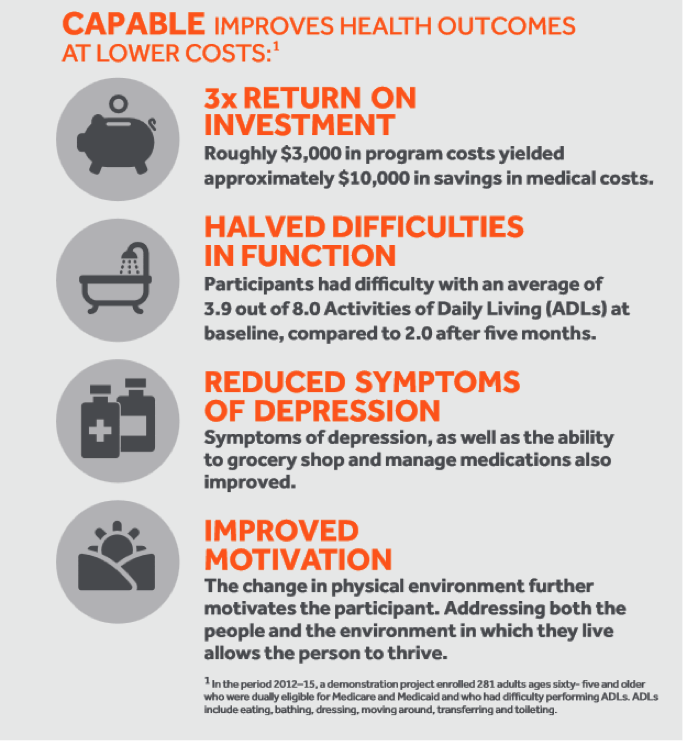 The future
A number of health systems are now testing CAPABLE on a larger scale, which may lead to the model spreading across the USA. Over the next three years, Nursing Now will follow developments, reporting on results and sharing lessons learned.
For more information about CAPABLE, please visit: www.nursing.jhu.edu/capable