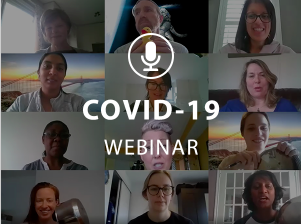 If you missed this webinar, you can listen here.
In this, the Year of the Nurse and the Midwife, nurses around the globe are fighting COVID-19 with knowledge, compassion, and courage.
On April 22, join Dr. Doris Grinspun, CEO of the Registered Nurses' Association of Ontario (RNAO)* and colleagues, to learn how RNAO is shaping the pandemic response in Ontario, Canada.
This 90-minute webinar will focus on RNAO's multi-pronged approach to protecting the public, supporting nurses, as well as other health providers.
Key areas of discussion will include:
1. Leadership role with government and the media to advocate for a proactive and evidence-based response
2. An influential source of solid policy analysis and recommendations
3. A health human resource program (VIANurse) that has recruited thousands of nurses and nursing students to meet health system needs
4. Intersectoral and interprofessional collaboration to protect our most vulnerable
5. Collective mobilisation of the public to cheer for health workers every night and spread hope to those working on the front lines.
Participants will be invited to share their experiences and questions, stay up-to-date with daily COVID-19 updates and weekly webinars, and partake in social
media activities.
Join the discussion and be a part of the conversation on how nurses' voices can be powered through this pandemic. #Togetherwecandoit.
About the presenters:
Doris Grinspun, RN, MSN, PhD, LLD(hon), Dr(hc), FAAN, O.ONT. is the Chief Executive Officer of RNAO and the founder of RNAO's Best Practice Guidelines
Program. She is a well-known figure in Canadian and international policy and practice.
Heather McConnell, RN, BScN, MA(Ed) is Associate Director at RNAO. Heather's area of expertise is in guideline implementation and knowledge transfer.
Susan McNeill, RN, MPH is Senior Program Manager at RNAO. Susan's area of expertise is in implementation science and social movement.
*The Registered Nurses' Association of Ontario is the professional association representing registered nurses, nurse practitioners, and nursing students in Ontario. Since 1925, RNAO has advocated for healthy public policy, promoted excellence in nursing practice, increased nurses' contribution to shaping the health system and influenced decisions that affect nurses and the public they serve. RNAO is a leader in evidence-based practice throughout the globe, with over 950 Best Practice Spotlight Organization® sites worldwide.