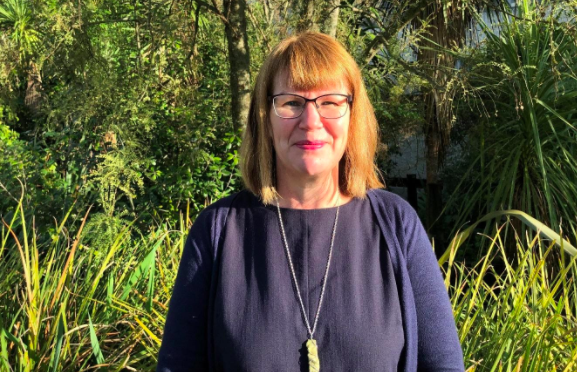 This blog oringally appeared on the Wintec Waikato Institute of Technology website. You can access it here.
Thirty years ago, young nurse Maureen Kelly left New Zealand with just a suitcase, en-route to the United Kingdom for an overseas adventure. She returned eight years later with a husband, two children, and a passion for nurse education.
In her 34-year career, Kelly has worked as an intellectual disability nurse in New Zealand and the United Kingdom, as a registered nurse in clinical practice, as a nurse educator and nursing school manager. 
An impressive resume for someone who left school unsure of what to do.  
"I knew I wanted to work with people and, whilst searching for career options, found information on psychopaedic (intellectual disability) nursing. It was different to other types of nursing and I thought it would be an interesting challenge," she says.
"My Mum and I visited Tokanui Hospital which was very overwhelming for a rural girl like myself who hadn't come across many people with intellectual disabilities. But I saw that I could help make a difference to these people's lives."
After completing a three-year nurse training programme at Mangere Hospital in Auckland in the mid 1980's, Kelly worked at Tokanui Hospital before embarking on her OE.
Her first role in the UK was as a registered nurse at a hospital in Bromsgrave in England's Midlands region. 
"I was promoted to charge nurse at just 23-years-old which was a huge leap and a massive learning curve."
It was in the UK that Kelly was first drawn to nurse education. After completing her Diploma in Nursing, she heard about a new programme where registered nurses could complete a Bachelor's degree in Nurse Education, an opportunity she couldn't resist.
Kelly returned to New Zealand with her family in the mid 1990's and studied Wintec's Bachelor of Nursing, enabling her to work in any area of nursing in New Zealand.
A few more years of hands-on nursing and education roles including five years as Director of the School of Nursing and Health Studies at Waiariki Institute of Technology (now Toi Ohomai) led to a dream job as Education and Standards Manager at the Nursing Council of New Zealand.
"It was a real highlight to work at the Nursing Council and I was privileged to work across New Zealand visiting different nursing schools and district health boards. The knowledge, experience and contacts from that role has helped me immensely." 
For the last two-and-a-half years, she has worked at Wintec's Centre for Health and Social Practice, teaching and developing postgraduate nursing and health programmes. She is also helping to develop a new nursing programme for the School of Nursing in Kiribati.  
"I enjoy the flexibility of my job and the different parts of the role. One day I can be facilitating Wintec's Preceptor Course with registered practice nurses and the next day I'll be working with stakeholders developing a new programme. No two days are the same and this keeps me on my toes and connected with what is happening in nursing and healthcare." 
During her career, Kelly has seen some monumental changes to nurse education in New Zealand.
"I'm in a unique position as I have experienced being a student in both the hospital-based training system of the 1980's and the polytechnic-based model we now use. There are advantages and disadvantages to both systems, however the level of knowledge and understanding of nurses coming through the polytechnic programme is far more advanced than the old hospital training system. Nurses now have a better understanding of why they are doing things and using their clinical judgement."
During her time studying and working as a registered nurse, she has also seen nursing qualifications progress from a certificate to a diploma and to the current Bachelor's degree. 
Kelly was involved in the programme development for Wintec's Master of Nursing Science, a pre-registration nursing programme for people who already have a degree to study a Master's degree to gain registration as a registered nurse, which launched in July last year. 
"Other huge innovations in nursing include the Nurse Practitioner scope of practice which allows registered nurses to practice autonomously and prescribe medication after undertaking a Master of Nursing. And registered nurses with three years' experience can complete the Postgraduate Diploma in Nursing and become qualified to prescribe medication as part of a collaborative team," she adds. 
Find out more about studying nursing at Wintec.
This year 2020 is the Year of the Nurse and the Midwife. This story is part of a series where nurses and midwives who have graduated from or worked with Wintec tell their stories. 
Read more:
Nursing began at 40 for this career changer and she isn't looking back
The full circle: from student to midwifery mentor
A message to our nurses in 2020