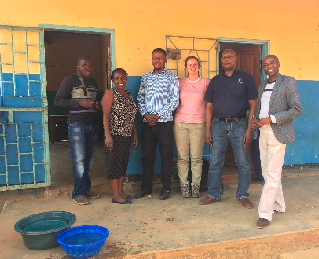 This blog originally appeared on the SCI Foundation website.
Caroline Pensotti is a nurse from Wiltshire working for SCI Foundation, an organisation that
supports sub-Saharan countries to eliminate tropical diseases. During the pandemic, she felt compelled to return to nursing and work on the frontline.
Two years ago, I left my role as a research nurse in the NHS and joined SCI Foundation as a Programme Advisor, supporting sub-Saharan African countries in their fight against neglected tropical diseases. These are diseases that disproportionately affect impoverished communities in the developing world keeping people suppressed, mired in poverty, denied the potential for economic growth. Having spent most of my childhood living in Zambia, it was my dream job in many ways – working for a global health charity, the opportunity to travel out to Africa and give something back to a place very close to my heart. It had shaped how I spent my youth, how I grew to perceive the world, and what I value most in life.
Three months ago, as the UK approached the peak of the COVID-19 epidemic, I received a call from a friend of mine who runs a nursing home near where I live in North Wiltshire. She was desperate. There had been several COVID related deaths in the home, staff members were off sick, they were desperately short of PPE and she felt she couldn't carry on. Initially, I felt reluctant to return to clinical nursing. I hadn't practiced for over two years and I felt fraud in many ways, having turned my back on the NHS a few years previously.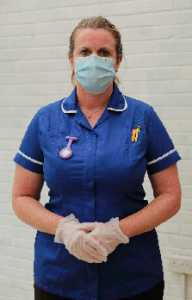 My lack of recent practice could put patients at risk. But saying 'no' felt too awkward and too selfish, especially if people in my community were suffering and frontline workers were overwhelmed by demand. I put on my uniform, took a very deep breath, and went back. One month later, during one of my shifts, I had to certify a death in the home, one of so many thousands of COVID-19 related deaths in this country. Standing by the deceased bedside, I felt utterly helpless. The man had died alone as had so many during this terrible time, without loved ones by his side, without the chance to say goodbye. All we could offer him in his final moments was some degree of dignity and pain relief. We were helpless in the face of this devastating virus, despite being one of the wealthiest nations on earth.
My thoughts that day turned to Tobias, the man who helped to raise me and my sisters in Zambia in the 1980s. We have kept in touch and he now lives in a remote village in Eastern Province, close to the border with Malawi. He is in his 70s and still a subsistence farmer, supporting a large family, walking miles every day to work. I wonder, how will this terrible pandemic affect him and his loved ones? They have absolutely nothing to fight it with. There is no vaccine, no cure, and without adequate health care or an effective social distancing campaign, it will wreak havoc in the developing world.
In December 2015, the UN General Assembly agreed upon 17 Sustainable Development Goals (SDGs), under the overarching principle of "leaving no one behind." Equity and human rights feature heavily in these goals – empowering and promoting the inclusion of all, regardless of income, sex, age, race, ethnicity, migratory status, disability, or geographic location.
The COVID crisis is now a global one. Abandoning the world's most impoverished countries now will only lead to an enormous number of preventable deaths and further global economic instability, bringing devastating health, social and economic crises over the months and years to come. The global community must support the developing world to expand PPE and technology for frontline workers, ensure an uninterrupted supply of essential medicines, and equitable access to vaccines.
In many ways, I am working on the frontline for Tobias, and for all those like him, who lack the basic opportunities we take for granted, for whom the daily struggle to survive is all they know.
Leave no one behind. COVID-19 affects us all.