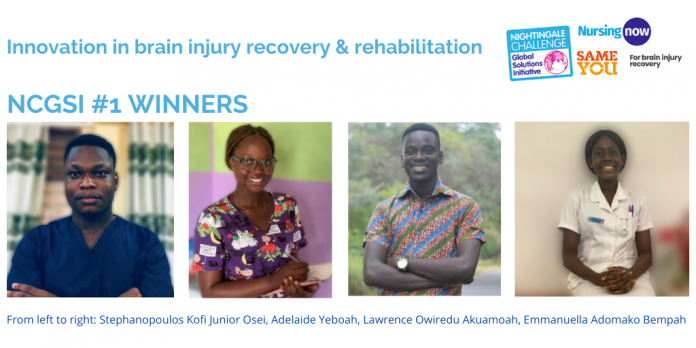 A team of four nursing students from Ghana have been selected by a panel of global health experts as the winners of the first Nightingale Challenge Global Solutions Initiative (NCGSI) with their plan to implement a telehealth rehabilitation platform for people having experienced a brain injury.
In July, Nursing Now launched the NCGSI with the goal of connecting young nurses and midwives around the world to share ideas and encourage nurse and midwife-led innovations that resolve global health issues.
In partnership with SameYou, Nursing Now challenged the global nursing and midwifery community to come up with innovative ideas to improve brain injury recovery and rehabilitation. SameYou and Nursing Now believe that nurses have a critical role to play in brain injury recovery and should contribute to the development and innovation in this field.
"SameYou were keen to sponsor the first Nightingale Challenge Global Solutions Initiative as we knew it was a unique opportunity for nurses to make a purposeful change to the pathway of care in brain injury recovery. We are proud to support the enhancement and leadership training of our nurses globally," Jenny Clarke, CEO, SameYou.
The winning solution came from Adelaide Yeboah, Lawrence Owiredu Akuamoah, Stephanopoulos Kofi Junior Osei, Emmanuella Adomako Bempah who are all third-year nursing students at the University of Ghana. 
"I am delighted with the response to the NCGSI. It's so exciting to know that there are so many early-career nurses with entrepreneurial skills and aspiration who are all passionate about delivering the highest possible person-centred care. Our winners have approached this challenge as a team, and have developed an innovative approach to improving access to care for brain injury patients," Lisa Bayliss-Pratt, Director, Nightingale Challenge.
The innovative idea submitted by Adelaide, Lawrence, Stephanopoulos and Emmanuella tackles the issues of scarce and costly brain injury rehabilitation services in Ghana with the proposal for an online telehealth rehabilitation platform that connects patients and families to health workers. 
The nursing students' telehealth rehabilitation platform proposes mapping patients to community health nurses who can offer support during the rehabilitation process through home-visits. It would also connect patients with physiotherapists, neuropsychologists and rehabilitation nurses as well as other patients with whom they are able to develop virtual relationships to support the recovery process.
This idea places community health nurses at the centre of the recovery and rehabilitation effort: "Community nurses would play a very critical role in ongoing assessment, support and updating other health team members on the rehabilitation and recovery process", explained the nursing students. 
The winners will now receive mentoring sessions from Jenny Clarke, CEO of SameYou to support them with the development and implementation of their online platform.
"I'm looking forward to working with these inspirational early-career nurses and supporting them to help bring their ideas to fruition." Jenny Clarke, CEO, SameYou.
"Winning this means a great deal to me and for that, I am grateful to Nursing Now and
SameYou
for organising this challenge. This is definitely a right step for me as a future nurse and I am very excited about how far our solution will go in promoting health of brain injury patients in Ghana and beyond,"
Emmanuella Adomako Bempah.
To learn more about the Nightingale Challenge Global Solutions Initiative, and find out how you can get involved, click here.