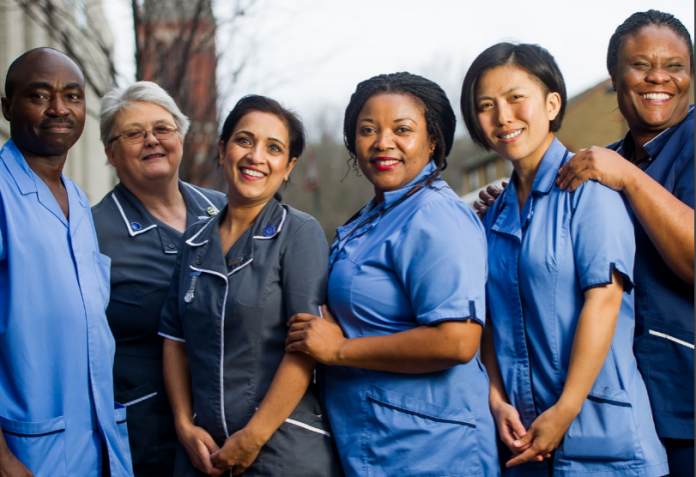 A report released today on nursing leadership explains why we must tackle persisting gender-related barriers and invest in nurses, in order to allow them to reach their full-potential and guarantee health for all.
The Gender Assessment of Nursing Leadership report highlights the issues facing nurses in today's healthcare settings and represents the voices of over 2,500 nurses and nurse-midwives from 117 countries.
While 70% of the total health and social care workforce is made up by women, only 25% of them occupy health system leadership roles. The report released today suggests that discrimination, bias and stereotyping inhibit opportunities for female nurses to develop skills, perpetuate the gender pay gap and result in unequal treatment in the health workforce between women and men around the world.
"There is massive potential for health and economic returns when you invest in the health workforce—and particularly nurses," says Barbara Stilwell, Executive Director of Nursing Now. "But gender-related barriers are still preventing us from fully unlocking this potential. Nurses and midwives are vital to achieving the Sustainable Development Goals on health, gender equality, decent work, and poverty alleviation, yet we hear over and over from nurses that they are being held back as leaders."
The report reflects a wide, global response of nurses' voices on gender barriers to leadership. The findings and recommendations were drawn from a survey of 2,537 nurses and nurse-midwives from 117 countries as well as a literature review, and eight key informant interviews. Authors found that when they asked nurses about the factors that keep them from pursuing higher-level positions, 45% of respondents said that a lack of training in leadership was a significant factor.
Last month, The World Health Organization (WHO) declared 2020 the Year of the Nurse and the Midwife. To celebrate this dedicated year, Nursing Now will be launching the Nightingale Challenge to equip the next generation of nurses and midwives with the skills they need to play an  even more influential role in shaping health care delivery, and by doing so, contribute to eradicating the gender-related barriers that nurses experience today. The Nightingale Challenge asks every employer of nurses and midwives across the world to provide leadership and development training for 20,000 nurses and midwives next year.
"The voices of the many nurses who contributed to [the Gender Report] must be heard by governments and health care leaders around the world. Nurses can be the answer to so many of the world's health problems—but only if there are serious, sustained efforts to remove the obstacles that are routinely put in their way," says Annette Kennedy, President of the International Council of Nurses. "Give them a level playing field, remove the glass ceiling and abandon any notions of "women's work" and nurses will change the world."
The report is a product of a research collaboration among IntraHealth International, Nursing Now and Johnson & Johnson with additional support from the International Collaboration in Community Health Nursing Research.
To read the full report, click here.