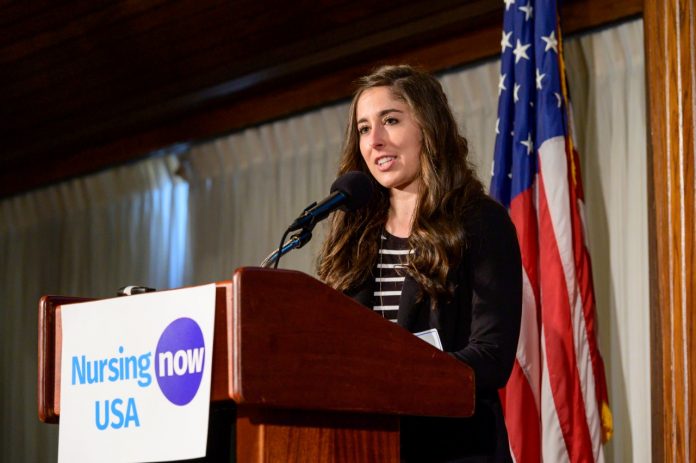 This blog was written by Kelsey Hirsch. Kelsey is an oncology nurse at the Seattle Cancer Care Alliance and a supporter of the Nursing Now movement.
I graduated from nursing school at Seattle University in 2013, where I was offered the opportunity to specialise in oncology. I knew I wanted to be part of life-long learning and holistic family-centred care, which is what oncology is all about.
I have been with the Seattle Cancer Care Alliance for almost six years, where I work in the Infusion Department to administer chemotherapy and supportive therapy. I help to manage side effects, and provide emotional support to patients going through cancer treatment.
I have always been passionate about teaching nursing, as I am acutely aware of the incredible impact that instructors have on students, and I want to contribute to the nursing community in this way. Research has the potential to revolutionise nursing practice, and my area of focus is the disparity in care among formerly incarcerated individuals. I believe that health, and access to adequate care, is a basic human right. It is not a privilege that comes and goes based on wealth, race, gender, or sexuality. I will begin teaching full-time next autumn, and in the meantime I will continue to work as an oncology nurse.
I am honoured to be part of the Nursing Now movement and I encourage nurses to bring their perspectives to bear on this initiative. The past decades of nurses have set the stage for the new wave to work at a higher scope, demand a further global reach, engage in interdisciplinary work across the lifespan, and make a real impact on individual lives and society as a whole.
I hope that through the Nursing Now initiative, we can help the public to understand what the 21st century nurse is capable of and what we do – whether we are nurse researchers, educators, policy makers, or providing direct care; and no matter what gender identity, no matter what race or ethnicity or socioeconomic status – I want people to see how our profession has evolved.
Nurses make an impact every day. We ask questions that result in research that informs evidence-based practice. We incorporate technology into our work so that we can better serve our patients. We provide holistic, life-long education to patients and their families not only about health and wellness, but also about the questions no one likes to talk about: questions about death and dying, utilisation of resources, and the impacts of society and the environment on an individual's health. Finally, we work at the policy setting level to make health care accessible and affordable for all populations.