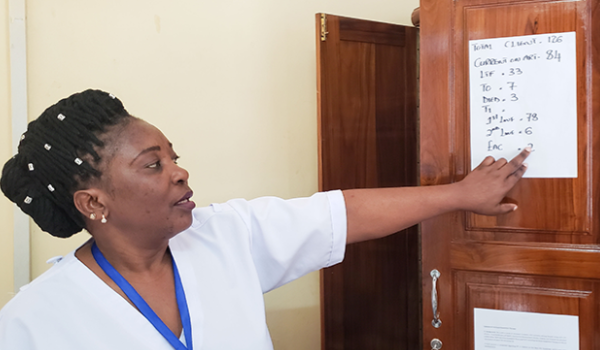 Days are long for Anna Mzeru.
A nurse at a health dispensary in the Bagamoyo region of Tanzania, she is one of only two medical staff at a facility that should have nine to be fully staffed. She and the other provider see as many as 120 patients per day, and attend an average of 15 deliveries per month. "We sometimes leave very late, but we can't leave the patients here. They need to be seen," she says.
The significant shortage of health workers at the clinic is common. Tanzania has a 56% vacancy rate across both public and private health care facilities. This makes it difficult to deliver quality services and achieve public health goals, particularly for HIV and AIDS prevention, detection, and treatment.
Supported by the Centers for Disease Control and Prevention and funded by the US President's Emergency Plan for Aids Relief (PEPFAR), MSH has partnered with the Tanzanian Ministry of Health, Community Development, Gender, Elderly, and Children to develop and implement a comprehensive human resources task-sharing plan. This initiative aims to strengthen Tanzania's health system, with a focus on the availability of HIV and AIDS services, by making the existing health care workforce more efficient and effective while continuing to expand it.
The idea is to train staff to handle activities that would normally be outside the scope of their duties to make more efficient use of human resources. Task sharing also allows for better distribution of work across the facility so that patients receive more timely care.
As part of the program, Mzeru attended a 10-day Nurse Initiated Management of Antiretroviral Therapy (NIMART) training last year that included lectures, discussions, and practical sessions. While she previously had to refer patients to district facilities for HIV care — even though many could not afford transport — she can now perform all HIV services right in her office. This includes initiating and refilling antiretroviral therapy and adjusting a patient's treatment regimen as necessary after viral load testing to see how they are responding to it.
MSH is also helping Tanzania develop e-learning modules to increase the task-sharing plan's reach and sustainability.
Related content
HEALTH WORKERS LEARN TASK SHARING TO IMPROVE HIV SERVICES IN TANZANIA
LEADING VOICES WITH PFIZER GLOBAL HEALTH FELLOW MEGAN MONTGOMERY
The MSH-led Tanzania Technical Support Services Project (TSSP), which is funded by the US Centers for Disease Control and Prevention, supports and strengthens Tanzania's ministry of health and key public health institutions to achieve HIV epidemic control and sustain HIV-related health systems and services.
(This article was originally posted on the MSH website)