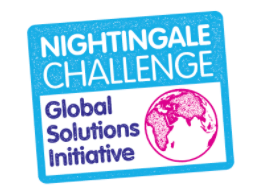 In September, Nursing Now Co-Chair Lord Nigel Crisp set the second challenge of our Nightingale Challenge Global Solutions Initiative (NCGSI) and asked nurses and midwives to create innovative initiatives to empower communities to create and sustain health.
Over the course of the last six weeks, in collaboration with Salus Global Knowledge Exchange, Nursing Now has hosted webinars and shared resources to inspire and motivate early-career nurses around the world to think about ways to empower communities to create and sustain health.
"Nurses and midwives are very close to the communities they serve, understand their problems, and can empower and help them to find the solutions they need," Lord Nigel Crisp, Nursing Now Co-Chair.
This week, a team of seven nurses from Indonesia was selected by a judging panel of global health experts as the winners of the second NCGSI challenge. 
"It is an honour for us to be selected as the winners of the Nightingale Challenge Global Solutions Initiative. Implementing our proposed solution which aims to improve access to care for the community will be another challenge for us. We are looking forward to discussing our solution with the Nursing Now and Salus Global Knowledge Exchange teams. Health is not a privilege, health must be for all!," explained young nurse and winning team member, Alenda Dwiadila Matra Putra.
The innovative solution submitted by the Indonesian nurses is centered around serving people in need of chronic care and enabling them to manage their symptoms, helping them to achieve wellness and maintain their independence. 
"It won't be easy to make this initiative happen. There are many opportunities, but we also identified many challenges that we might face. So, I am very grateful that we won this challenge and will get coaching from the experts. Hopefully, we can make it happen. We know that nurses can contribute greatly in Indonesia towards achieving health for all", said Ariani Arista Putri Pertiwi, member of the winning team and Manager for Collaboration and Development of Nursing Department, Universitas Gadjah Mada.
"Nurses are the most trusted profession in the world and can play a fundamental role not just in treating and caring for us when we get sick, but in helping people and communities to lead healthier lives and make healthier choices. We were delighted to support the NCGSI by presenting the winner with an opportunity for publication of their idea and to present at the 4th Healthy City Design 2020 Congress. The winning solution is a perfect demonstration of how nurses can lead this change towards 'building a healthy and health-creating society' which is the powerful message of Lord Nigel Crisp's new book, 'Health is made at home, hospitals are for repairs'", said Marc Sansom, Managing Director, Salus Global Knowledge Exchange.
In addition to presenting their solution at the upcoming Healthy City Design Congress, the winning nurses will benefit from a mentoring session with Lord Nigel Crisp to help them in developing their ideas and planning implementation. 
Join us on 1st December to learn more about this exciting initiative.
Register to attend the Healthy City Design Congress and hear from these inspirational nurses

here

.