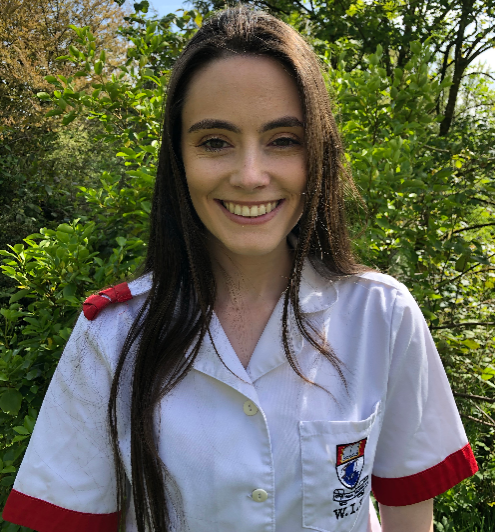 Roisin O'Connell, Emergency Department Nurse, Ireland reflects on the inspiration she draws from strong teamwork and colleagues to make it through the fight against COVID-19.
When the COVID-19 pandemic began, I was apprehensive; afraid of what I was seeing on the news and how I was going to cope in this new and ever-changing environment. And as the virus began to appear in my hospital I could sense an air of uncertainty amongst all hospital workers.
Nevertheless, throughout this whole experience, I have had reassurance and encouragement from everyone around me to keep going, to keep fighting. This pandemic, although terrifying, has shown me just how generous and kind people can be. Even in our darkest moments, we can work together as a team for the health and well-being of not only our patients but also our families and friends. 
This is something that we have never prepared for, but we will make it through. It may take weeks, maybe even months, but we will come out stronger because of it. We have now learned the importance of family and the significance not being able to see and touch them has meant to us. Each and every nurse I have met wishes that this will end soon so that we can all be with our families again and life can resume. However, we all agree that until this virus is under control we need to continue with social distancing and protect the vulnerable people in our communities.
The most important thing at the moment is to remain positive. Many nurses are beginning to feel the strain of not being able to be with their families during this time. And although they know what they are doing is making a huge impact on other people's lives, they still wish to be at home with their loved ones.
Nurses are working in very difficult and challenging environments. Wearing masks, gloves and goggles for long durations of time causes nurses to develop uncomfortable marks and indentations on their faces. Whilst the gowns tend to cause great discomfort due to their ability to generate heat, resulting in persistent sweating. All of this aside, we are thankful that we have these sources of protective equipment to ensure that not only the patient is safe but so are we.
From speaking to many nurses that have been redeployed to other areas, it is clear that there is real anxiety about working in the acute sector again, sometimes after many years. But all I see when working with these men and women is their sheer determination and bravery, as they try to help as many people as they can in this fight against COVID-19. Watching them has become a huge inspiration for many young nurses like myself, as they have shown us how even in such an uncertain time we can all work together to help make a difference.
If you are reading this and feeling alone. Remember that you are making a difference; you may not see it now but you are.
You are saving the life of a mother, a grandmother, a daughter, a son, a father. You are sacrificing priceless time with your family so that others may have more time with theirs. You are the heroes, you are the frontline. Never forget just how important you are. 
You may not feel better today, but think like this: we are one day closer to the end, one day closer to hugging our families, one day closer to spending quality time with our friends. One day closer to looking back on this as a piece of history.
Thank you to all healthcare staff working on the fight against COVID- 19. Your bravery is an inspiration to us all. Keep going, our heroes.