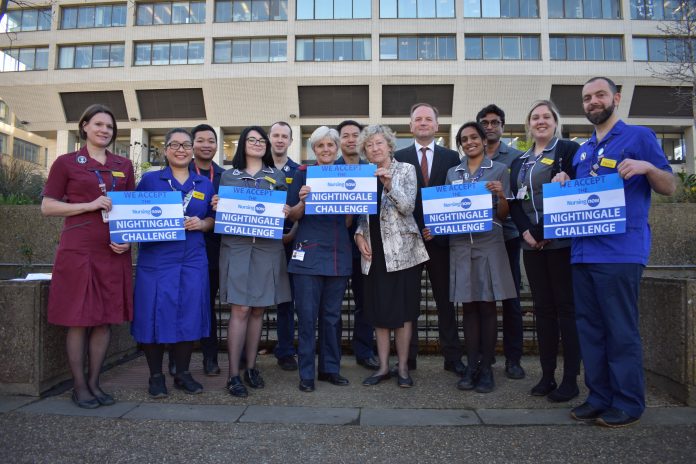 Nurse leaders and partners at St Thomas' Hospital, one of the first organisations to accept the Nightingale Challenge 2020, left to right: Roisin Fitzsimmons, Joyce Miki Kasilag, Airo John Onrubia, Rebecca Reid, Paul Coao, Dame Eileen Sills (Chief Nurse, St Thomas' Hospital), Dennis Paquiz, Barbara Stilwell (Executive Director, Nursing Now), Simon Stevens (Chief Executive, NHS England), Prabalini Thaventhiran, Sanjeev Heemraz, Tamara Thomas, Panagiotis Poimenidis.

Introducing the Nightingale Challenge
On the first anniversary of Nursing Now, we are launching the Nightingale Challenge 2020, which calls for every large employer of nurses globally to provide leadership and development training for 20 young nurses and midwives next year.
Our aim is to have at least 20,000 young nurses and midwives benefiting from this in 2020 – the WHO Year of the Nurse.
2020 is a significant year as it marks the 200th birthday of Florence Nightingale, considered by many as the founder of modern nursing. The World Health Organization announced last month that they will request the World Health Assembly in May to declare 2020 as the 'Year of the Nurse and Midwife'.
Seven hospitals and health trusts across the globe have already pledged their commitment to leadership and development training for young nurses and midwives:
South Eastern Sydney Local Health District, Australia
Sociedade Beneficente Israelita Brasileira Albert Einstein, Sao Paulo, Brazil
Narayana Health Group, India
Specialty Hospital, Amman, Jordan
Mulago Hospital, Kampala, Uganda
Guys and St Thomas' NHS Foundation Trust, London, UK
The Nightingale Challenge will be launched formally at the International Council of Nurses Congress in June. You can read more about the challenge here.