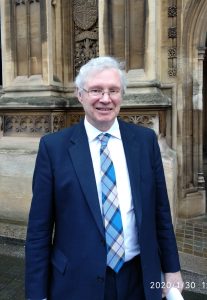 Nursing Now Co-Chair, Lord Nigel Crisp has asked what plans the UK Government has to celebrate Florence Nightingale's bicentenary and the Year of the Nurse and the Midwife in 2020.
Lord Crisp stressed the importance of this year to celebrate the legacy of great nurses and midwives of the past such as Florence Nightingale, but also great figures such as Mary Seacole and others both in the UK and on an international scale. 
Lord Crisp highlighted the importance of investing in training and increasing the numbers of advanced nurse practitioners. He also stressed the urgent need to reverse the decline in community nurses, school nurses and health visitors who play a vital role ensuring access to health within communities.
"[The Year of the Nurse and the Midwife] is also a chance to celebrate today's nurses and midwives, and thank them for what they do […] [T]his is also an opportunity to look again at nursing and midwifery, recognising how far the professions have developed in recent years and that they perform a very wide range of roles, all with customary care and compassion," Lord Nigel Crisp, Co-Chair, Nursing Now.
In response to Lord Crisp's questions, Nicola Blackwood, Parliamentary Under Secretary of State, Department of Health and Social Care explained plans to develop a strategy for district and community nurses to work with healthcare providers, practitioners and higher education institutions. This will address issues surrounding the community nursing workforce and is expected to be published later this year.