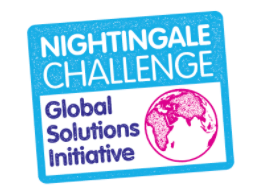 We are delighted to announce that Nursing Now Co-chair, Lord Nigel Crisp has set the second challenge of our Nightingale Challenge Global Solutions Initiative. 
The challenge

: Develop an innovative, nurse/ midwife-led initiative to empower communities to create and sustain health.
Lord Nigel Crisp will be joined by a panel of experts to launch this challenge on 6th October at 2PM (BST).
The Nightingale Challenge Global Solutions Initiative provides the opportunity to connect with nurses and midwives around the world to share innovative ideas to resolve global health issues. 
"Nurses and midwives are very close to the communities they serve, understand their problems and can empower and help them to find the solutions they need," Lord Nigel Crisp, Nursing Now Co-Chair.
Your innovations could make a major difference to community health.
This challenge will run until 16th November when Lord Crisp, along with a panel of experts, will select a winning solution. The creator/s of the winning solution will be invited to present their solution at the 4th Healthy City Design 2020 International Congress, held virtually from 30th November – 4th December. You can dowload the programme here. They will also be offered a mentoring session with Lord Crisp. 
Don't miss out on this wonderful opportunity to build partnerships & influence the future of global health. 
Join the Nightingale Challenge Global Solutions Initiative here. 
Click here to access guidance for applicants.