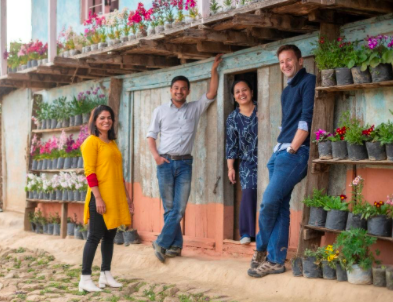 This blog was written by João Marçal-Grilo, founder and director of Jaya Mental Health
My name is João Marçal-Grilo, I am a British Portuguese registered mental health nurse, and the founder of Jaya Mental Health, a London-based NGO that supports the training of mental health care staff in South Asia. 
When I was at school, being a nurse was something that never crossed my mind. Aged 10, I dreamt of being "a National Geographic explorer". I often imagined myself floating down the Amazon river on a canoe with a pair of binoculars around my neck, or riding a horse in the African savanna, surrounded by zebras and wildebeests. Life turned out a little different, but no less exciting!
My passion for travelling and discovering the world led me to read geography at university. Later on, I did a Masters in International Development Studies and soon after, a job in marketing and consultancy prompted me to find a place of my own in central London. Life felt calm, quiet. And boring. 
My feet were soon itching. In my mid-twenties and as part of a "let's-find-out-what-I-really-would-like-to-do" plan, I decided to go backpacking for half a year across South Asia. Whilst in India, I volunteered in a hospital for homeless people in the state of Uttar Pradesh. There and for the first time, I had the experience of providing hands-on care to some of the most vulnerable, marginalised men, women and children I had ever encountered. I was in awe of the nurses working in this small hospital. With limited resources and whilst caring for patients with severe physical and mental health problems, staff carried out their duties with inspiring professionalism, patience and resilience. Working alongside such extraordinary individuals was one of the main reasons behind my decision to become a nurse. Being in that role, even if on a voluntary and inexperienced basis, felt natural and right to me. Once I returned to the UK, I applied to nursing school and 3 years later I graduated from the Florence Nightingale School of Nursing and Midwifery, as a registered mental health nurse. My nursing career started in inpatient dementia care; soon after, I moved to community-based work within different adult mental health teams across the South East of England. 
The NHS is a formidable organisation that works hard to provide excellent treatment to those in need of care. I have always been aware of the privilege of working for the NHS and being able to make a positive difference to the lives of people, with the support of a like-minded organisation. Nevertheless, in recent years pressure on health and social care services has taken its toll on NHS staff's motivation and morale – a pressure to which hardly any nurse has been immune to. 
Mental health services are particularly underfunded and consequently, many of these are severely understaffed and over-stretched. Several of my nursing colleagues speak of being overburdened, and the COVID-19 crisis has exacerbated feelings of exhaustion and accumulated professional fatigue. Therefore, valuing the work of nurses and their contribution to the well-being of society has never been as pertinent as today. 
In 2020 we celebrated the international year of the nurse and the midwife. Coincidently, never over the past 70 years have so many nurses been involved and united in a battle against one single agent, like in 2020. 
At the moment, nurses in all corners of the world are working harder than ever. Many are having to deal with the stress of caring for patients without adequate protective equipment; others are facing severe discrimination within their own communities due to the social stigma surrounding COVID-19. Over the past twelve months, part of my work at Jaya Mental Health has been to provide practical and emotional support to some of our nursing colleagues during these challenging times.
Jaya Mental Health is a young, energetic NGO that focuses on supporting the training and professional development of nurses in low-income countries. It is a platform that encourages nurses working in mental health care to exchange, skills, knowledge and resources, underpinned by the belief that we can create a global network of mental health nursing able to make a difference to the state of mental health care in the world. 
As a resourceful, highly adaptable workforce, nurses can be true catalysts of change. The projects we run are a small drop in a large ocean of need. We, therefore, welcome with open arms the support and participation of nurses from across the world and invite each one of you to join us in our advocacy movement for bringing quality mental health care to all corners of the globe.
For more information on Jaya Mental Health's projects and how you can take part in what we do, please visit www.jayamentalhealth.org.uk. I am also available via joao@jayamentalhealth.org.uk, and look forward to hearing from you!
With warm regards,
João