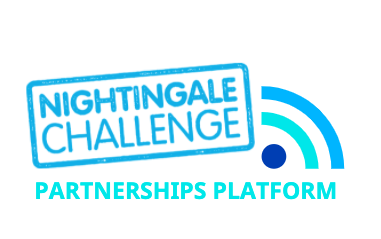 Nursing Now is delighted to announce the creation of the Nightingale Challenge Partnerships Platform.
The Nightingale Challenge Partnerships Platform will provide a space that allows Nightingale Challenge employers to connect, form, and strengthen new and existing partnerships, facilitate engagement and conversation between organisations participating in the Nightingale Challenge. We hope that this platform will facilitate the sharing of best practices in developing early-career nurses and midwives as leaders, with the aim of improving global health care, and contributing to health system strengthening. 
One of the greatest assets of the Nightingale Challenge is its global community and the opportunity this provides to share knowledge and learn from health employers around the world. To date, we have facilitated 96 partnerships between participating organisations. These partnerships offer an opportunity to create lasting relationships between organisations through the sharing of different perspectives and experiences.
How does it work?
When you join the Nightingale Challenge Partnerships Platform, you will be asked to share your job title, name of employer/ organisation, what you are looking for in a partnership and what you offer to other participating Nightingale Challenge organisations. 
Participants will be actively encouraged to independently explore and share their expertise and enthusiasm in order to develop a community of practice.
Participants will also have the opportunity to take part in several activities, for example:
Tell me more Tuesday
Starting later this year, on Tuesdays we will invite an organisation to do a 20 minute Facebook live during which they talk about their organisation, their current challenges, successes, and what they are looking for in a partner organisation.
Speed dating
On designated days, organisations looking to establish a partnership can join the Facebook chat room that will be set up for any group member to join. They will be encouraged to converse with other participating organisations to identify partnership potential. 
Success Stories
Blogs and short news stories about the Nightingale Challenge partnerships and updates about the Nightingale Challenge programme will be shared to encourage dialogue.