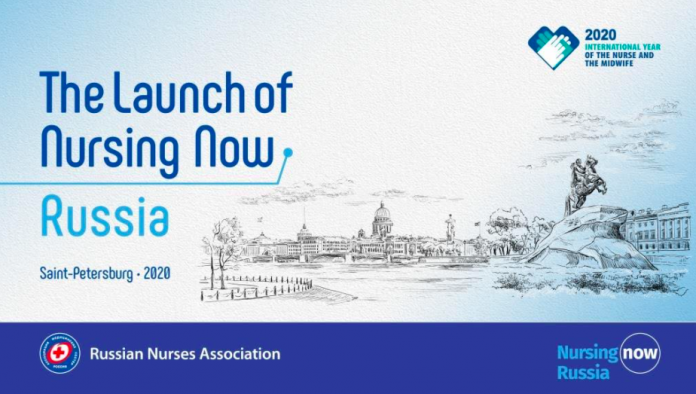 This week marks the official launch of Nursing Now Russia. 
Following the spread of the Covid-19 pandemic the launch event that was originally planned to take place as an "in-person" event in March, will now happen this week (13 – 14 October) as a virtual event.  
The World Health Organization (WHO), International Council of Nurses (ICN), Nursing Now, European Forum of National Nursing and Midwifery Associations (EFNNMA), European Midwives Association (EMA), as well as representatives of the Russian Government, Russian Nursing Association (RNA) and nursing and midwifery leaders from Russia and Europe will address participants on top priority issues of nursing, midwifery and healthcare. Other key issues to be addressed include: advanced scope of practice, transformational education, human resources for health and issues of equal pay and safe working conditions. 
This event will open the global and regional policy agenda on nursing and midwifery to a large audience of Russian speaking participants and will provide Russian nurses and midwives the opportunity to share their views on the policies and strategies that affect them, as well as their role in the current and future Russian National Health System.
During the event, Lord Nigel Crisp, Nursing Now Co-Chair will talk about the significance of Nursing Now as a global movement: "I know how important it is that there's global solidarity and that whilst you are making your case for nursing in Russia, others are making their case all around the world. Thank you for joining Nursing Now, our global movement is stronger for having you as part of it".
ICN President Annette Kennedy will also acknowledge the work of the RNA and Nursing Now group: "I would like to put on record our admiration and thanks to the Russian Nurses Association and the Russia Nursing Now group for their commitment to the profession at this especially difficult time".
The event will be attended by speakers and guests from 15 countries and national nursing associations of the region, with more than 3,000 professionals and leaders representing all parts of Russia and other countries including Latvia, Lithuania, Armenia, Belarus, Moldova, Kyrgyzstan and Tajikistan.
An esteemed panel of speakers will join the event over the course of the two days, including:
Lord Nigel Crisp, Co-Chair of the UK's All-Party Parliamentary Group on Global Health; Co-Chair of the Nursing Now campaign; and former NHS Chief Executive and Permanent

Secretary of the UK Department of Health 2000-2006

Dr Hans Kluge, Director, WHO European Region

Dr Mikhail Murashko, Minister of Health of Russian Federation

Dr Tatiana Semenova, Deputy Minister of Health of Russian Federation

Gabrielle Jacob, Special Advisor – Transformation and Organization Development, Programme Manager/Unit Head, Human Resources for Health Programme, WHO Regional Office for Europe, Copenhagen, Denmark

Elizabeth Iro, Chief Nursing Officer, WHO, Geneva, Switzerland

Annette Kennedy, President, International Council of Nurses

Valentina Sarkisova, President of the Russian Nurses Association and Chair of the European forum of national nursing and midwifery associations

Howard Catton, CEO, International Council of Nurses

Brigita Skela-Savič, (PhD, MPhil, BA, RN), Professor in nursing research and EBP, Angela

Boškin Faculty of Health Care, ICN Board member

Dr. Karen Bjøro, former Vice-President of Norwegian Nurses Organization, ICN Board member and EFNNMA Steering committee member

Mervi Jokinen, EMA President and EFNNMA vice-chair

Prof. Aurelija Blaževičienė, Head of WHO CC for Nursing Education and Practice, Faculty of Nursing, Kaunas University

David Mlakic, President, European Nursing Students Association (ENSA)

Yulia Agapova, RNA Head of midwifery network, Chair of St-Petersburg branch of the Russian Nurses Association

Valeriy Samoilenko, RNA CEO
Stay tuned for more information about this launch event coming later this week!