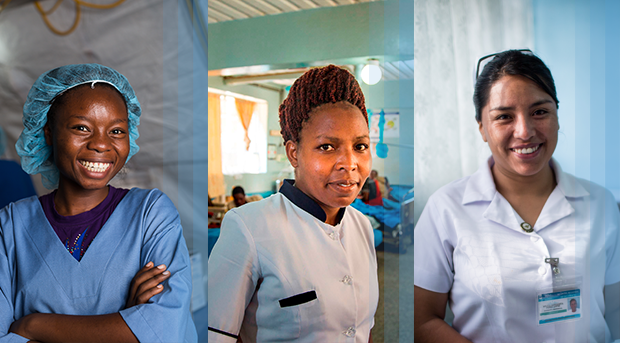 Image credit: IntraHealth International
IntraHealth International and the UNC Chapel Hill School of Nursing are co-hosting an official launch event for Nursing Now on Tuesday 27 February in Chapel Hill, North Carolina USA.
Nurses are critical to good health care in the US and around the world, and they're a driving force behind improving gender equality and strengthening economies.
The event will start with breakfast and live webcasts from London and Geneva, followed by speakers and conversation on the challenges and opportunities facing nurses today.
RSVP to attend the event in person.
Speakers and agenda:
8:00 AM | Welcome & Introduction
Dr. Barbara Stilwell, IntraHealth International
Dean Nilda Peragallo Montano, University of North Carolina at Chapel Hill School of Nursing
8:30 AM-10:00 AM | Global Nursing Now Webcast from London and Geneva
Hear live from launch sites where speakers include Director-General of the World Health Organization Dr. Tedros Adhanom Ghebreyesus, Princess Muna of Jordan, and other champions, high-level decision makers, and practicing nurses on the challenges and opportunities facing the profession today.
10:00 AM-12:30 PM | Local Speakers and Q&A
Maureen Bisognano, Nursing Now Campaign Board
Dr. Susan Hassmiller, Robert Wood Johnson Foundation
Pape A. Gaye, IntraHealth International
Dr. Elizabeth Madigan, Sigma Theta Tau International
Dr. Franklin Shaffer, Commission on Graduates of Foreign Nursing Schools International
Sarah Walji, registered nurse in Canada and Nursing Now Campaign Board