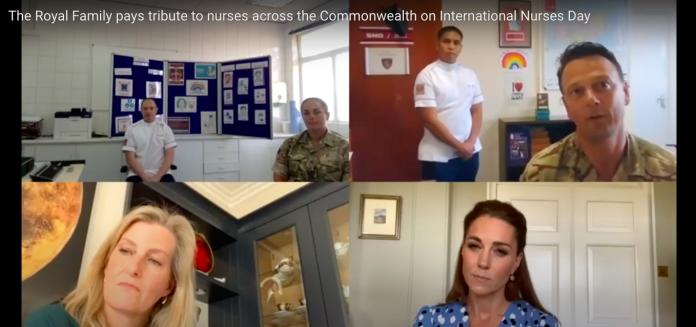 To honour International Nurses Day, Nursing Now has facilitated a series of online conversations between HRH The Duchess of Cambridge and HRH The Countess of Wessex. 
Talking to nurses from around the world (Australia, The Bahamas, Cyprus, India, Malawi, Sierra Leone and the United Kingdom) they discussed the challenges and pressures nurses are facing globally to bring the COVID-19 pandemic under control.   
The nurses who took part in these conversations represent the broad diversity of the nursing profession, with nurses working in primary health care, children's nursing, mental health and care of people with HIV/AIDS and prevention of mother to child transmission all participating in these discussions. 
Dr Barbara Stilwell, Executive Director of Nursing Now said:
"We are delighted that our Patron the Duchess of Cambridge and the Countess of Wessex met with nurses from around the world to mark International Nurses Day. They have helped to get nursing into the spotlight and raise awareness of the critical importance of supporting our nurses. These nurses are representative of a global profession whose care, compassion and skill are critical at every step on the road to health."
Today, on International Nurses Day, in this the Year of the Nurse and the Midwife, Nursing Now calls governments around the world to support and invest in the nursing workforce.  The development of nursing and midwifery – and enabling nurses and midwives to work to their full potential – is one of the most important things we can do to improve health globally.
Nurses who took part in these conversations have shared their reflections on this opportunity…
"Starting 2020 in my new career as a Registered Nurse I would not expect to be placed in the midst of a pandemic and interviewed by the Royal Family. It was an amazing opportunity to be recognised and appreciated as an Aboriginal Registered Nurse to celebrate the International year of the Nurse and Midwife." Ms. Tahnia Ah Kit, First Year Practitioner and Registered Nurse, Gidgee Healing and North West Health and Hospital Service, Mt Isa, Australia 
"What an honour! Being interviewed by members of the Royal family, being recognised for work we do as a nursing profession and to represent my country as a proud first nations woman and nurse. It was lovely to be thanked by both the Duchess and the Countess and we will never forget it; but our work needs no thanks, it's what nurses and midwives around the world were born to do." Renee Blackman, Registered Nurse and CEO, Gidgee Healing Aboriginal Medical Services, Australia
"It was such a rare opportunity to talk with the Royal family and to share what nurses are doing in Malawi. It has greatly encouraged me as a young nurse to know that our contribution to well-being is being recognised. As we commemorate International Nurses Day and our year, 2020 the Year of the Nurse and the Midwife, it was indeed such an honour to join this conversation." Joe Nkhonjera, Senior Nursing & Midwifery Officer, Phalombe District Hospital, Malawi. 
"We were honoured to be a part of this global conversation and to highlight the work of nurses in child and adolescent mental health and developmental disability. It was relaxed and easy going, and we felt right at home."  Michelle Hannah, Staff Nurse, Sandilands Rehabilitation Centre, The Bahamas.
"Having the future Queen and the Countess speak to us today was really special. For them to take time out of their day to call us was great. They asked lots of questions about how we were doing and it felt like a chat with colleagues. It was nice to speak to the Countess again and update her on the patients she met in January." Anita Kamara, Fistula Supervisor and Nurse, Aberdeen Women's Centre, Sierra Leone.