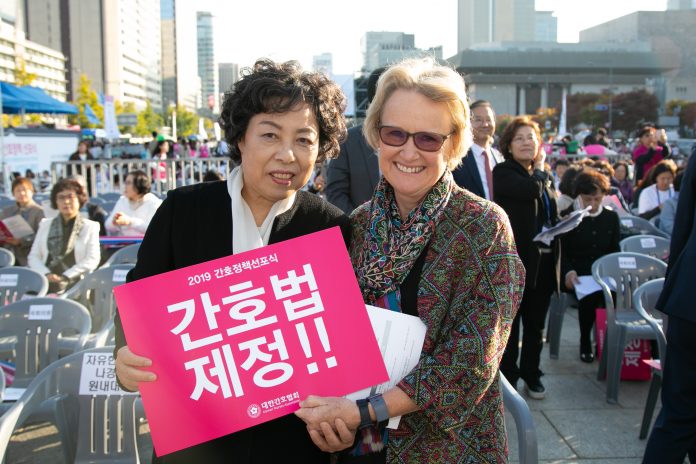 On 30th October, the Korean Nurses Association (KNA) held its annual Nursing Policy Declaration Ceremony, otherwise known as the Nightingale Festival at Gwanghwamun Square, central Seoul. The aim of this ceremony is to strengthen the ongoing activities of the KNA and to show support for Korean nurses. This year, there was particular emphasis on the call for a Korean Nursing Act, as well as the Year of the Nurse and the Midwife and the planned activities of the Nursing Now campaign.
Today in South Korea, there is no Nursing Act, and the Medical Act governs all healthcare professionals, including nurses. Having doctors and medical institutions at the centre of this Act is an example of the way that the law fails to embrace the scope of nursing practice and fails to recognise nursing as an independent health care profession. Over 50,000 nurses and student nurses, as well as more than 80 lawmakers and government officials attended the ceremony and expressed their strong support for the introduction of a Nursing Act.
Congratulatory videos from Nursing Now Co-chair Lord Nigel Crisp together with those from the World Health Organization Chief Nursing Officer Elizabeth Iro and the International Council of Nurses President Annette Kennedy were screened at the ceremony demonstrating support for the KNA's effort to establish  a Nursing Act, as well as the recommendation of Marianne Stoeger and Margaritha Pissar for the Nobel Peace Prize in 2020. 
Baroness Watkins of Tavistock, the Alternate-chair of Nursing Now introduced Nursing Now Campaign and its Nightingale Challenge to the 50,000 audience. With a recognition of the crucial role nurses play in the healthcare sector globally, she explained that the campaign aims to improve health by raising the profile and status of nurses. She encouraged Korean nurses to take part in the Nightingale Challenge and called for investment in nursing leadership in order to improve health for all.