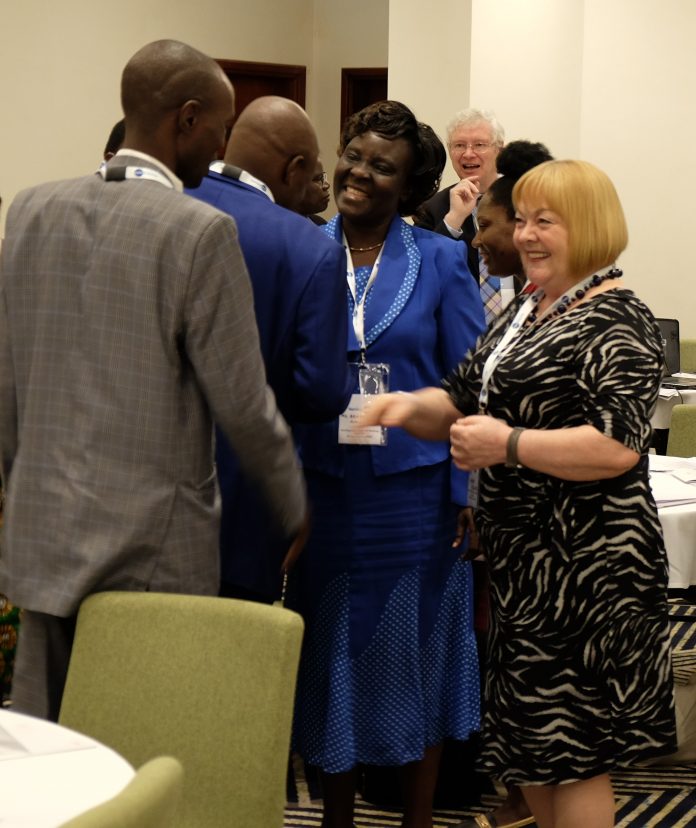 On the 3rd and 4th of February 2020, Nursing Now held the first of its regional meetings in Kampala, Uganda. This was an opportunity for Nursing Now board members including Lord Nigel Crisp, Sheila Tlou, Annette Kennedy, Dr. Francis Omaswa, along with a delegation of influential regional healthcare leaders and key organisations including Aga Khan University, Jhpiego, ECSACON, WHO AFRO to discuss the progress and future of the Nursing Now campaign.
The first day began with opening remarks from Lord Crisp, followed by Prof Sheila Tlou and ICN President, Annette Kennedy on the Nursing Now campaign and the Year of the Nurse and the Midwife respectively, and was highlighted by an inspiring presentation by Dr. Diana Atwine, Permanent Secretary of the Uganda Ministry of Health. Representatives from Jhpiego, ECSACON and DFID then discussed plans for 2020 and nursing initiatives followed by updates and presentations from the Nursing Now national groups of Uganda, Rwanda, Kenya, and Malawi. 
On day two, Nightingale Challenge, Programme Director Lisa Bayliss-Pratt gave an update, while Beatrice Amuge of Mulago Hospital shared experiences of the Nightingale Challenge in Uganda, along with young nurse leader Joe Nkhonjera who discussed his experiences of the Challenge in Malawi. 
In the afternoon, Prof Bayliss-Pratt facilitated discussions around how we as a nursing and midwifery community could really challenge ourselves to make the most of the Nightingale Challenge in order to effect long term change for patients and local communities.
The following day, the Nightingale Challenge team spent the morning at MILCOT, a midwife led community practice that aims to bridge the gap between the midwife and the local community, with young nurse leader and Director Harriet Nayiga and her mentor Dr. Grace Edwards, Professor of Midwifery at Aga Khan University. The afternoon was spent with Beatrice Amuge, Nurse Leader at Mulago Hospital, and a selection of young nurse Nightingale Challenge participants. They spoke of their enthusiasm for the Nightingale Challenge and explained that, although this is a Challenge to support and develop the leadership skills of their early career nurses and midwives, the more experienced nurses and midwives are also learning and gaining a great deal from participating in this initiative.
Learn more about the Nightingale Challenge here