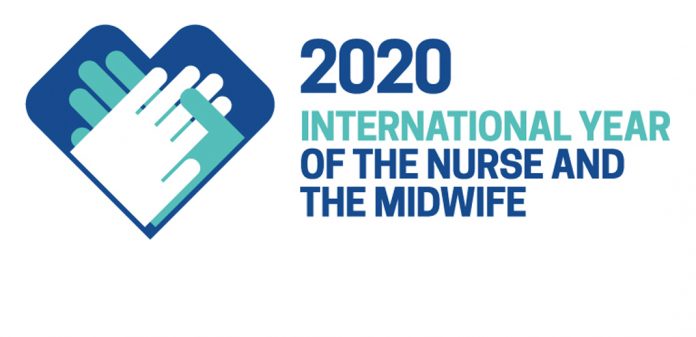 Together with our partners, Nursing Now is calling on governments to make 2020 a landmark year in health on the way to fulfilling the promise of Universal Health Coverage.
As the International Year of the Nurse and Midwife begins, we urge world leaders to recognise the critical role played by nurses and midwives in health promotion, disease prevention and the delivery of care in all settings, and to make the necessary investments to allow them to pave the way for a brighter future for health around the world.
We are delighted that our Patron, Her Royal Highness, The Duchess of Cambridge has recognised the importance of the Year of the Nurse and the Midwife following her recent visit to Kingston Hospital Maternity Unit. 
The world's National Nursing Associations and Nursing Now groups are planning hundreds of events to raise awareness about the issues facing the nursing and midwifery professions, but also to celebrate 2020 which will see the bicentenary of the birth of Florence Nightingale, and the publication of the first WHO State of the World's Nursing Report.
WHO estimates there will be a worldwide shortfall of nine million nurses and midwives by 2030 unless radical action is taken now.
ICN President Annette Kennedy said:
"Whenever I talk to nurses, I realise that each of them has a story to tell. They are with patients from birth to death, they share in their saddest and most joyful times, they help them to get through the most traumatic of situations and they help them to recover their lives. In 2020 we need nurses to share their stories, to tell their families, their friends and the communities that they live in what it is like to be a nurse, the pressures they are under, the challenges face and the triumphs they witness.
"Increasing the public's understanding of who nurses are, what they do and the amazing contribution they make to the societies they live in, will help us to ensure that the legacy of 2020 will go on for years in the shape of more and better supported nurses providing essential care in the communities they serve."
Nursing Now Co-chair Lord Nigel Crisp said:
"2020 provides an unprecedented opportunity to show what more nurses and midwives can achieve if given the support and opportunity to do so. Investing in nursing and in midwifery will make an enormous contribution to the rapid, cost-effective and high quality scaling up of universal health care. 
"It is time for governments to step up and take decisive action to invest in their nursing and midwifery workforce. This requires countries to increase their allocation to health budgets, not only increasing numbers but ensuring that nurses and midwives are resourced and supported to meet the world's health care needs."
Nursing Now Executive Director Dr Barbara Stilwell said: 
"Nurses are ready for this moment – 2020 is the chance to show what nurses can do to improve health for everybody, everywhere. 
"Nursing Now has offered a chance for nurses to tell us what they need to be even more effective leaders and expert practitioners. They need to have equipment, drugs and an environment where they can practice effectively. They need better skills in making the case to politicians and policymakers for essential investments in nursing. And we and they want to have the nursing workforce represent demographic realities – which means more men and more people from ethnic minorities.
"In 2020, nurses will make a compelling case for these investments in nurses and nursing. This is an opportunity that comes around rarely but nurses are ready. Watch out for the nurses in 2020!"