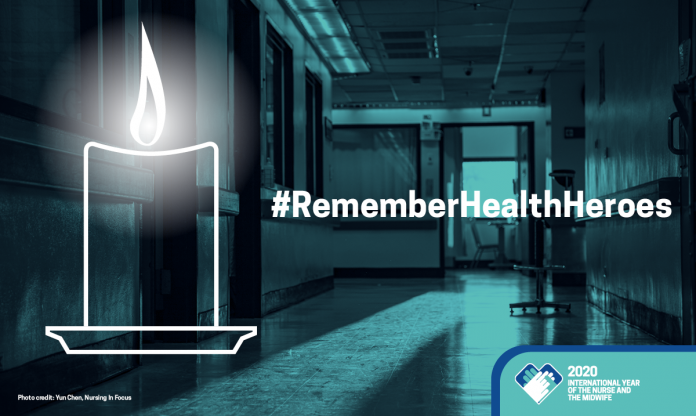 11th May, #RememberHealthHeroes
On Monday 11th May, the eve of International Nurses Day, ICN, WHO and Nursing Now are encouraging people to take part in a moment of reflection to honour the memory of nurses and health workers who have tragically died during the COVID-19 pandemic.
We hope that as many people as possible from around the world will take part in this global moment of reflection by sharing one of our social media tiles (see below), along with the hashtag, #RememberHealthHeroes. Alternatively, you can share a photo of yourself with a lit candle with the hashtag #RememberHealthHeroes or record a short video of you and your colleagues either lighting a candle or using your mobile phone light,  to show your respect for the health workers lost to this pandemic.
---
11 de mayo, #RememberHealthHeroes
El lunes 11 de mayo, la víspera del Día Internacional de la Enfermera, el CIE, la OMS y Nursing Now están alentando a las personas a participar en un momento de reflexión para honrar la memoria de las enfermeras y el personal sanitario que murieron trágicamente durante la pandemia de COVID-19.
Esperamos que la máxima cantidad de personas posible de todo el mundo participe en este momento global de reflexión compartiendo una de nuestras fichas de redes sociales, junto con el hashtag, #RememberHealthHeroes. Alternativamente, puede compartir una foto de una vela encendida con el hashtag #RememberHealthHeroes o grabar un video corto de usted y sus colegas encendiendo una vela o usando la luz de su teléfono móvil, para mostrar su respeto por el personal sanitario perdido en esta pandemia.
---
11 mai, #RememberHealthHeroes
Le lundi 11 mai, à la veille de la Journée Internationale des Infirmières, le CII, l'OMS et Nursing Now encouragent les gens à participer à un moment de commémoration pour honorer la mémoire des infirmières et des agents de santé décédés tragiquement lors de la pandémie de la COVID-19.
Nous espérons que le plus de personnes possible du monde entier participeront à ce moment de commémoration mondial en partageant l'une de nos infographies pour les réseaux sociaux, avec le hashtag, #RememberHealthHeroes. Vous pouvez également partager une photo de vous avec une bougie allumée avec le hashtag #RememberHealthHeroes ou enregistrer une courte vidéo de vous et de vos collègues en allumant une bougie ou en utilisant la lumière de votre téléphone portable, pour montrer votre respect pour les agents de santé perdus lors de cette pandémie.
Download the #RememberHealthHeroes social media tiles to use on 11th May