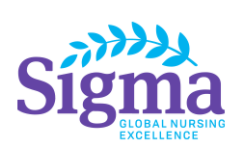 This Nightingale Challenge update was written by Dr Elizabeth Madigan, CEO of Sigma Theta Tau.
Sigma Theta Tau International Society of Nursing (Sigma) has 28 nurses involved in our Nightingale Challenge program from eight countries. We have been doing monthly webinars on leadership development including developing your personal brand (for social media), mentorship, and global diversity. All the participants have been matched with mentors to help them with career questions and ideas they have. We had planned a Day at the United Nations which had to be postponed because of COVID-19. This has since been replaced with an interactive presentation by Sigma's UN Youth Representatives. By the end of the year, each participant will have disseminated their experience, either locally or in other venues.
Our feedback from our participants has been positive. They appreciate getting to know other young nurses globally and also have benefitted from the relationship with the mentors.
Sigma has had such a positive experience with the program that we are starting a second cohort with 45 nurses from 10 countries. We will continue the same activities with some modification based on the feedback from the participants but keeping the core activities.
During COVID-19, the participants identified this program as more important as it gave them another professional development option and something besides COVID-19 to focus on.