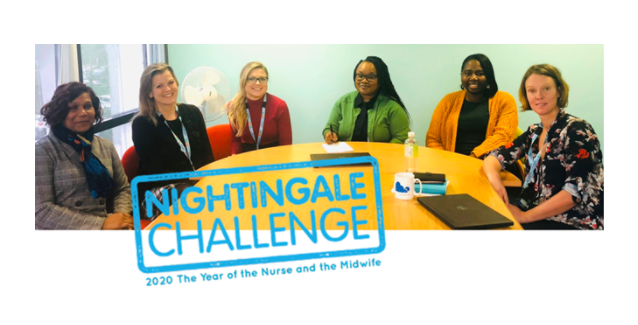 This blog was written by Tope Forsyth, Quality Improvement Manager, Surrey and Borders Partnership NHS Foundation Trust
Last month saw the launch of our new Nurse Leadership Development programme in response to the Nightingale Challenge. During a virtual event, attended by over 90 delegates, both internal staff and external guests, we were delighted to be joined by Lord Nigel Crisp, Nursing Now Co-chair and Co-Chair of the UK All-Party Parliamentary Group on Global Health who kicked off the event with a keynote speech. .Keynote addresses were also given by Ruth May, Chief Nursing Officer for England and Professor Lisa Bayliss, Programme Director for Nursing Now's Nightingale Challenge.
As part of our Nursing Leadership Development programme we have connected with the Uganda UK Health Alliance to form a global partnership with Mbarara University Hospital. Dr Godfrey Zari Rukundo, Head, Department of Psychiatry, joined us for the launch event.
We were also joined by some of our most senior nurse leaders in the organisation and had exclusive guest contributions from Dame Elizabeth Anionwu, Emirates Professor of Nursing, University of West London and Emma Wadey, Head of Mental Health Nursing, NHS England and Improvement who shared their reflections on leadership in nursing.
What is our Nightingale Challenge Programme about?
This launch of our Nightingale Challenge programme is a watershed moment for us at Surrey and Borders.  By accepting this challenge, we have the opportunity to build on the work we are already doing to develop our Preceptors, our nurse leaders, and strengthen our quality Improvement programme while aligning these components to create a bespoke programme to develop these nurses into the nurse leaders of tomorrow. In addition to the 20 early-career nurses enrolled in the programme, we are providing leadership development training for more experienced members of staff. Today, more than 40 nurses have embarked on this programme including a significant number of black and minority ethnic staff members.
Our programme consists of 10-day virtual sessions delivered through a mix of webinars, external talks, taught sessions, group work in workshops and self-directed learning. With each session our nurses will receive coaching and mentoring from Senior Nurse Leaders in the Trust.
Our nurses will be supported to develop a range of skills and experiences in leadership, providing them with the opportunity for career development. They will also be provided with the tools and skills to develop them into leaders for change through skills in Systems Thinking and Quality Improvement.
Why is this important?
At Surrey and Borders Partnership our vision for the nursing community and workforce is to ensure there is a strong alignment between the Nursing and Midwifery Professional Standards, and the Trust's Core Values. Using these domains, we can begin to develop our Nursing priorities and leadership identity. 
The WHO Global Strategic Directions for Nursing and Midwifery, the framework around Education and Development focuses on having an educated, competent and motivated nursing workforce within effective and responsive health systems at all levels and in different settings. Through this framework, we can establish and develop the nursing workforce in our organisation, in order that we support the health and social care objectives of the communities we serve. One of the ways that we are doing this is through our Nightingale Challenge programme. 
Why now? 
The impact of the pandemic has meant we have had to adapt the way in which we work and adjust some of our programmes for the virtual world. With this year being the year of the nurse and the midwife, we have seen within our services (and worldwide) nurses, truly step up and make ongoing sacrifices, working tirelessly to keep us all safe. It was therefore important that we recognised this effort and now more than ever to continue and fulfil our promise to offer a programme that enriches our nurses with leadership and development skills and provides unique experiences to support them further.