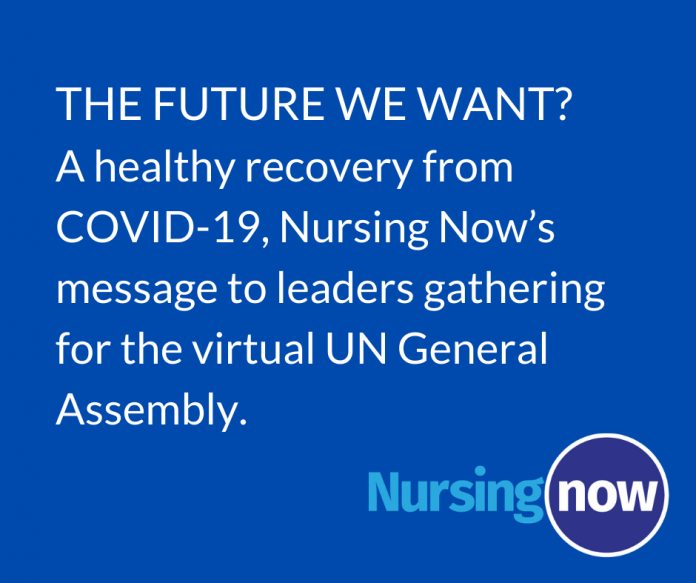 This is a historic week for the United Nations. Heads of states and governments will, for the first time, meet virtually for the 75th session of the UN General Assembly (UNGA75). This meeting takes place in the midst of a global pandemic crisis unlike any other in our lifetimes. 
A key theme of the week is 'The future we want, the United Nations we need; reaffirming our collective commitment to multilateralism – confronting COVID-19 through effective multilateral action.' Heads of states and governments will exchange statements via pre-recorded messages. And Nursing Now's message to them is that we hope that they move beyond fine words to action that lays the foundation for the healthy future that we all want. 
It's time for governments to focus on investing in health systems and the health workforce, in particular nurses. Nurses have a unique role in keeping the world healthy and it is critical to address the global shortfall predicted to be 9 million nurses and midwives by 2030 by investing in their recruitment, education, decent work, and leadership. This investment is critical to the long-term recovery from COVID-19 and to shaping the healthy future we all want to see. 
On the sidelines, events taking place during UNGA week, where policymakers and influencers once discussed policy behind doors, now are opened up via the power of Zoom and other digital tools to make dialogue more accessible to a wider range of people. Nursing Now is delighted to partner with Seed Global Health, ICN, WHO, and others for two key webinars during UNGA week to make sure we are making the case for investment in nursing and midwifery. 
Find out more about this week's webinars…
2pm (BST), 22nd September
Building the Bridge: Nurses and Midwives Protect Essential Health Services During COVID-19
Join Seed Global Health, Nursing Now, Partners in Health, University of Global Health Equity, and the Nurses Lead | Midwives Lead campaign partners for an engaging online conversation during the first-ever virtual UN General Assembly. Nurse and midwife leaders will share their experiences in the face of COVID-19, discuss strategies needed to address the shortages in their professions, and galvanize support for continued investments to ensure health for all.
1pm (BST), 24th September
Leadership During Times of Crisis 
Join the World Health Organization, the International Council of Nurses, Nursing Now, and Sigma Theta Tau International for a webinar to explore multiple perspectives on leadership during COVID-19. Nursing Leadership Through the Time of COVID-19 will include four separate panel discussions with nurses from around the world on the challenges and lessons learned during COVID-19, question and answer sessions, and a concluding conversation.