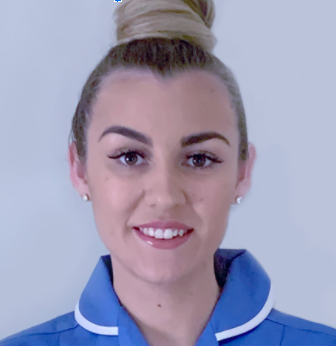 This blog was written by Brínín Anderson. Brínín is a Staff Nurse in an acute surgical ward at Antrim Area Hospital. She is one of 27 Northern Trust nurses taking part in the Nightingale Challenge.
Since a young age I have been involved in caring for a family member, something that I have enjoyed and taken satisfaction and fulfilment from; this in turn influenced my career choice towards nursing.
I qualified as a registered nurse only two years ago. I have spent these two years learning and developing my skills on an acute surgical ward. This is an extremely busy area of practice and it has provided many challenges as a newly qualified nurse. A surgical ward is fast-paced and things often change quickly, therefore as a registrant, I have had to be flexible and adapt to manage this.
On my ward, we manage the care of patients from diagnosis, through a surgical procedure and during recovery. I find it very rewarding to witness the transition from a vulnerable time in someone's life, where they have lost a lot of their independence, through recovery, to a stronger, healthier version of themselves. Part of our role in the surgical division also involves end of life care. We are often with patients when they receive a palliative prognosis. I believe that one of the most important attributes of a nurse is to be able to advocate for patients to ensure their voice is heard and they receive the best care possible. To be able to care for patients, and be there for their family members throughout this tough time, is a very humbling experience.
I was delighted to be nominated for the Northern Nightingale Programme by my Ward Manager. I was also grateful to have successfully received a place on the programme, given that I am the most recently qualified member of staff in the group.  When I began the Northern Nightingale Challenge, I wanted to gain a greater understanding of leadership. The year 2020 was declared the International Year of the Nurse and the Midwife; it's really quite ironic that collectively we were presented with the challenge of a global pandemic during this year. The role of the nurse and midwife became a global focus, and the amazing work that we carry out on a daily basis, whilst understaffed and overstretched in very difficult times, was recognised.
From starting the Northern Nightingale Programme, I have gained insight into different leadership styles. I attended a collective leadership workshop and from this, I realised that leadership is the responsibility of everyone. I believe that one of the most important attributes of a leader is honesty. I was deployed to the Intensive Care Unit (ICU) during the first surge of the pandemic. I found during this time that I valued honesty greatly, no matter what was going on, I found I could deal with it better when I had all the information. However, I also appreciated the importance of a more direct leadership style in these uncertain times. I believe that in complex times sometimes a direct leadership style is effective. Nevertheless, decisions should be made collectively when it is feasible, so that everyone is aware, allowing a positive outcome to be achieved.
The Nightingale Challenge Programme has impacted me dramatically. It has given me the opportunity to engage with colleagues from many different areas, including senior managers, and discuss issues we all face together, despite having differing roles. It has allowed me to build my confidence, enabling me to work more closely within the multidisciplinary team. This opportunity to develop my leadership skills and build a network of colleagues so early in my career will benefit me as I progress in nursing. 
Like many others, COVID-19 has had a huge impact on me both personally and professionally. During my deployment to ICU, I was extremely anxious.  In order to protect my loved ones, while working in ICU, I had to move out of my family home and live alone.  Not only were nurses caring for others during the pandemic, but we were also continuing to do this while worrying about the unknown for ourselves and our families. The most challenging barrier throughout my deployment was the Personal Protective Equipment (PPE), it made an already very difficult and distressing work setting even more physically and mentally demanding. No one could have prepared us for it and the additional barriers it created.  It made communication very difficult both among team members and also with families. As relatives were unable to be present at the bedside, it was difficult to get to know our patients. Relatives often share personal information and stories about their loved ones which helps us in delivering person-centred care.  During my time in ICU, I found the window visits particularly difficult, where family members could have a presence but through the physical barrier of a window.  As nurses, we pride ourselves in being empathetic, whilst providing emotional support to patients and relatives alike. The physical barrier created by the PPE meant that we were unable to provide non-verbal communication such as a smile or a hand touch.  These simple acts of caring and kindness are intrinsic to the nursing role, we do them without thinking and not being able to do this was difficult for me.
This has been a challenging time. However, I certainly feel like I rose to the challenge and have achieved goals over the past few months that I didn't know I had. I feel that in surviving this so early in my career, I have developed resilience that I will carry forward with me and I will stay positive and meet future challenges head-on.