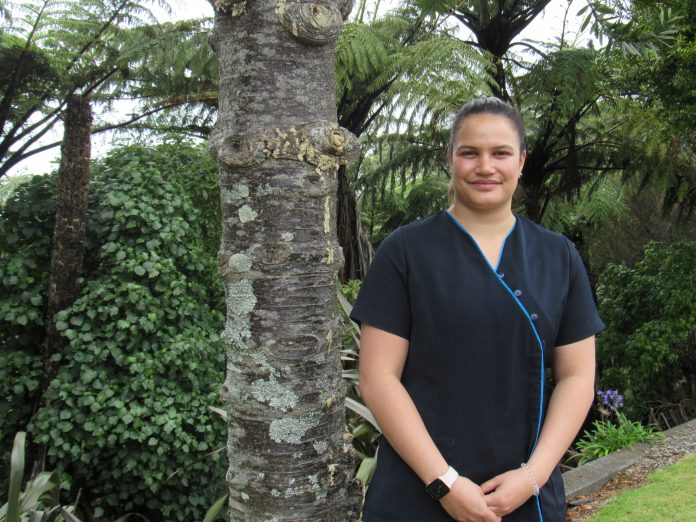 This article was originally posted on the Pinnacle Practices website.  
When practice nurse Huia Brady heard about the Pinnacle nursing scholarship aimed at
improving equity and access in primary care, she saw an opportunity to make positive
change for patients.
It was a vision that paid off. The 23-year old was recently announced as the recipient of the $10,000 scholarship for Project Whero, a proposal for a nurse-led community clinic in the township of Waitara, Taranaki.
Huia is part of the team at Tui Ora Family Health, a large Māori health provider in New
Plymouth, where she has worked since March 2020. The young practice nurse started her
career in paediatric oncology at Starship Hospital in Auckland, before making the decision to bring her learning and skills home to Taranaki. Currently in her second year of nursing, she's also about to start working towards a nurse practitioner role specialising in children's
health.
"I think it's a privileged position to work with whānau in primary care," says Huia. "Being
able to have a korero (talk) with someone when they're in a vulnerable state, when you
might have only just met them."
The Tui Ora team had identified the need for a satellite clinic in Waitara, a district where
people experience high levels of deprivation and associated health inequities and
challenges. Twenty per cent of Tui Ora's patients live in Waitara and many find it extremely
difficult to access the practice in New Plymouth – a trip that requires three bus rides and a
walk.
Huia saw the opportunity to realise the idea with funding from the scholarship and took the
initiative to develop Project Whero (Project Red) in her application. The name represents
the health inequities of those living in high deprivation, something Huia is passionate about
addressing.
"I have a big drive to decrease inequalities in health care that are out there for people," says Huia. "I was super excited when I heard about receiving the scholarship, it means we can make the clinic happen."
Project Whero aims to make health services more accessible and affordable, reducing
deprivation barriers and increasing achievement of health targets for Waitara patients.
Robyn Taylor, clinical nurse manager at Tui Ora, says the team is very proud of Huia getting the scholarship. "She's very bright and comes up with innovative ideas. Huia strives to be the best she can be, she has a vision for herself and for Māori health and she's proactive about it.
"We have been trying to get the satellite clinic up and running and Huia's scholarship, along
with the support of the nursing team around her, means we can go to people in their
community."
The Pinnacle nurse scholarship was opened on 12 May 2020 to celebrate international
nurses day. It's part of Pinnacle's commitment to supporting professional development and
service improvement within the network. The scholarship asked for new ideas to improve
equity or access issues in primary care from any nurse employed in a Pinnacle practice or
Pinnacle Midlands Health Network (PMHN). It also supports the Nightingale/Pinnacle
Challenge, which highlights the work nurses do every day in primary care and supports them to be leaders of the future.
Five applications were received and each application was reviewed and interviewed by
Pinnacle CEO Helen Parker, medical director Dr Jo Scott-Jones and nursing director Jan
Adams. Jan says choosing the recipient was a difficult decision.
"All the applications were very good and had done impressive background work. What really struck us was the passion the nurses all brought to their projects, the desire to make a difference. They have a real love for their communities." Huia's stood out because of the work she wants to do and her clear thoughts around what support she needs to make the project happen. She's a young nurse with a vision who shows qualities of leadership for the future."
The passion of the other four candidates and the quality of their projects has also been
recognised with the offer of assistance from Jan to get their projects going. Connections
have been made with people who can help them, and Jan will keep in touch as they
progress to provide support as needed.
Huia and the team at Tui Ora Family Health are planning to have Project Whero up and
running in November this year. As part of her award, Huia has also committed to sharing the knowledge gained from the project and supporting others in their learning.