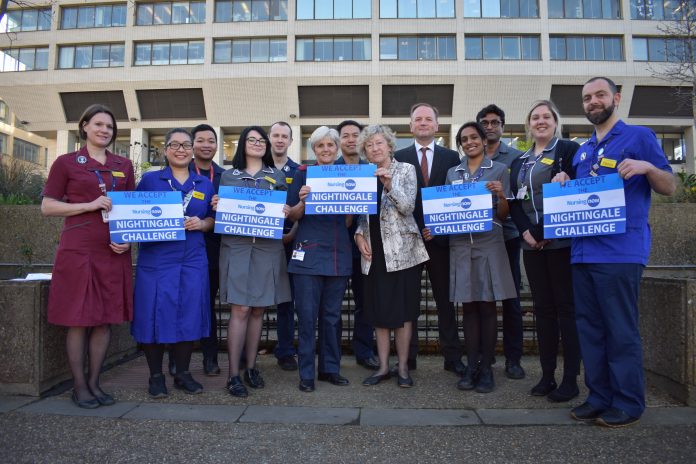 Hospitals Across the World Unite to Accept Nursing Challenge
Investing in nursing has a triple impact for countries everywhere: more nurses means better health care for more people, greater gender equity and stronger economic development.
This is the main driver behind the Nightingale Challenge, a campaign launched today which challenges hospitals across the world to provide leadership and development training for 20,000 nurses and midwives next year. It calls on every large employer of nurses to give at least 20 young nurses and midwives the skills they need to play an even more influential role in shaping health care delivery in the future.
2020 is a significant year as it marks the 200th birthday of Florence Nightingale, considered by many as the founder of modern nursing. The World Health Organization announced last month that they will request the World Health Assembly in May to declare 2020 as the 'Year of the Nurse and Midwife'.
Simon Stevens, the Chief Executive of NHS England, has announced support for the Nightingale Challenge, in addition to six hospitals and health trusts across the globe which have pledged their commitment to leadership and development training for young nurses and midwives, including Guy's and St Thomas' NHS Foundation Trust in London.
"Our National Health Service is pleased to support nurse leaders to share their experiences and best practice with colleagues from across the UK and internationally," said NHS England Chief Executive, Simon Stevens. "At a time when action to ensure we have the talented and committed nurses our patients need is vital for implementation of the NHS Long Term Plan, the Nightingale Challenge is a fantastic opportunity for the NHS and other health systems around the world to support this critical foundation of our shared future."
Commenting on the announcement, Chief Nurse at Guy's and St Thomas' NHS Foundation Trust, Dame Eileen Sills said, "We are thrilled to be one of the first Trusts worldwide to accept the Nightingale Challenge. It is critical that we invest now in future leaders of nursing and midwifery, and we look forward to contributing to this global challenge."
The Nightingale Challenge has been created by Nursing Now, a three-year global campaign which aims to empower nurses worldwide by promoting investment in nurses and ensuring that more nurses are put in senior leadership positions. Nursing Now has generated support in over 75 countries since it was launched last year.
"It is absolutely fitting that we are launching the Nightingale Challenge on Nursing Now's first anniversary," said Dr Barbara Stilwell, Chief Executive of Nursing Now. "We want to encourage organisations worldwide to play a bigger role in developing nursing and midwifery. By enabling young nurses across the world to fulfill their potential, we will contribute to the impact of nursing."
The Nightingale Challenge will be officially launched in Singapore at the International Council of Nurses World Congress in June.
Ends
Additional quotes:
Sirshendu Mookherjee, Group Head of Human Resources at Narayana Health Group, India said, "Narayana Health is proud to be participating in the Nightingale Challenge and we look forward to offering this exciting opportunity to some of our nurses. Nurses play a critical role in the provision of healthcare across the world and can do even more in the future. We hope many other hospitals and organizations will follow our lead and accept the Nightingale Challenge."
Shelley Nowlan, Chief Nursing and Midwifery Officer Queensland, Australia, commented, "Queensland has a long and proud history of excellence in nursing and midwifery, and we are excited to take this to the next level by accepting the Nightingale Challenge. Raising the status of nurses and midwives worldwide benefits the health of everyone, and it is fantastic that young nurses and midwives in our state will have the opportunity to take part in this campaign."
Kim Oleson, Director of Nursing and Midwifery at South Eastern Sydney Local Health District, Australia, said, "Our District is committed to developing the next generation of nurse leaders, so we are proud to join the Nightingale Challenge in 2020, especially given the historic links between Sydney Hospital, Lucy Osburn and Florence Nightingale. By enhancing the role of nurses and midwives we will improve health locally, across Australia and worldwide and we are thrilled to be part of this global campaign."
Dr. Fawzi Al-Hammouri, Chief Executive Office and General Manager of The Specialty Hospital in Amman, Jordan, commented, "The Specialty Hospital is honored to participate in the Nightingale Challenge 2020 as we are keen to provide continuous training and development to our staff, we look forward to train a group of our nurses to improve their leadership skills."
Notes to Editor
Full list of hospitals which have currently accepted the challenge:
For media queries:
Nursing Now: Fionna Tod – +44 7510 518154 ftod@globalhealthstrategies.com