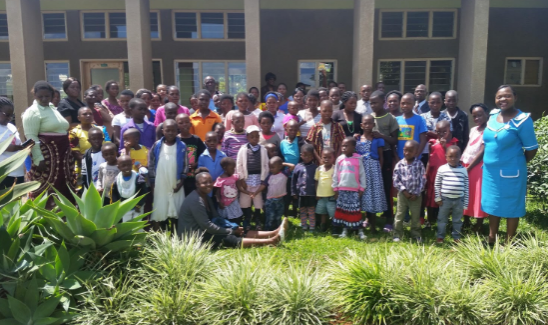 In 2017 in Northern Malawi, Senior Matron Chikondi Chimbatata from Mzuzu Central Hospital, and her colleagues from the Kamuzu College of Nursing (KCN), Miriam Simbota and Elizabeth Glaser, began researching ways to improve the outlook for children with Sickle Cell Disease (SCD). They were looking for ways to reduce mortality and morbidity in children with SCD and after some research, decided to launch a family-centered model of care to provide health education and social support.
SCD is a condition associated with a very high rate of early mortality, lifelong morbidity and reduced life expectancy (Meremikwu & Okomo, 2016; Grosse et al, 2011). In spite of the significant burden of SCD in sub-Saharan Africa, there are very few programmes for early identification and treatment of the disease. The few existing programmes are located in large urban settings, making accessibility for families difficult, often resulting in delayed access to care for those most in need.
In late 2017, the nurses began offering a family support group. This support group continues to take place every six weeks to coincide with Mzuzu Central Hospital's SCD outpatient clinic day. The group is open to all those wanting support and to learn more about living with SCD. Each session offers basic information on SCD, provides ways to identify early crises, so that quick and efficient care can be arranged, and serves to dispel misconceptions.
Senior Matron Chikondi Chimbatata and her colleagues Miriam Simbota and Elizabeth Glaser believe in the importance of  monitoring hospital admissions in order to understand if this family-centred model of care is reducing re admissions, as well as resulting in shorter periods of hospitalisation.
Chimbatata and her staff, in collaboration with the KCN child health faculty, have achieved a great deal in a short period of time and continue to work to improve care for people living with SCD. Their future plans include:
A network of nurses in Malawi with expertise in SCD care to better map the prevalence of the disease in the country

Provision of much-needed family support and organise outreach activities within communities to increase awareness of the disease and reduce related stigma

Providing education to local teachers is a priority in order to equip them to support school age children living with SCD, and consequently reduce rates of absenteeism

A national protocol that would allow clinical officers and staff in district hospitals and remote clinics to provide better treatment, and

Considering the establishment of a national NGO for SCD.
Senior Matron Chikondi Chimbata, the Mzuzu Central Hospital paediatric nursing staff are looking forward to advancing care for children and families affected by Sickle Cell Disease in Malawi.