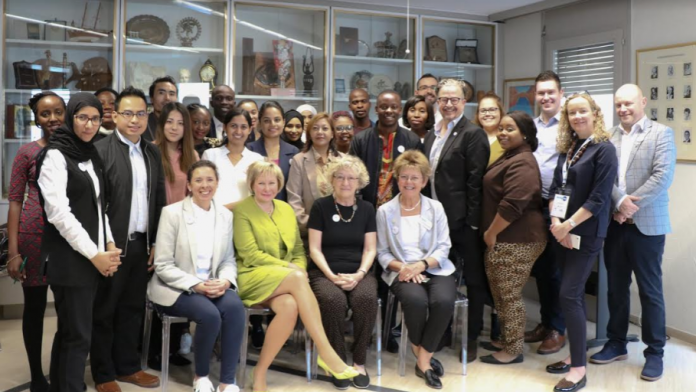 Professor Lisa Bayliss-Pratt is the Programme Lead for the Nightingale Challenge. Here, she shares her experience of Nursing Now's pre-WHA event that was organised in partnership with  World Innovation for Health (WISH), the International Council of Nurses and Sigma Theta Tau. Follow her on twitter @hee_lisaBP 
Next year, we'll be celebrating the 200th anniversary of Florence Nightingale's birth in many different ways, to honour her wide-ranging achievements as nurse, innovator, reformer and leader of improved health care. One of the most appropriate ways to commemorate the first nurse leader must surely be investing in and supporting the next generation of nurses and midwives; those who  are critical to our healthcare future, not just in the UK, but around the world.
Our Nursing Now global movement aims to support nurses at every stage in their careers to be influential leaders, through creating more opportunities for young nurse leaders to be supported and recognised alongside other young professionals, and to connect them with networks of leaders. We want influential leadership to be a culture in nursing and have a sustainable influence on policy and decision making.
This is where the Nightingale Challenge, a campaign within Nursing Now, comes in. Our aim is to ensure that, by the end of 2020, 20,000 young nurses and midwives from all over the world are equipped and empowered as leaders, practitioners, and advocates in health.
They will be offered the opportunity to join leadership and development programmes, tailored to local needs, resources and priorities, which will support their own skills and development, bring added value to their organisations, and help raise the profile and status of both professions.
Young nurses at the World Health Assembly
Last week, in Geneva, ahead of the annual World Health Assembly*, I was delighted and inspired to meet and work with a very diverse group of 23 young nurses and midwives who demonstrated to me – despite the fact they were 35 and under, that they already had the confidence and tenacity to be leaders.
The Nursing Now team brought these young people together as part of our ambition to expose nurses and midwives to the processes that underpin global health policy development early in their career. They convened from all over the world to meet senior leaders in global healthcare, including WHO Director-General Tedros Adhanom Ghebreyesus and  Elizabeth Iro (WHO Chief Nursing Officer). It was so encouraging to see that they quickly immersed themselves in the vital work of the World Health Assembly.
I know this was something which would have daunted me when I was a young nurse!
Who is leading whom?
Participants came from as far afield as New Zealand, Malawi, Qatar and Bhutan.
During their two-day workshop before the Assembly, these young leaders engaged in discussions about the value of international organisations and how they can engage with them to bring about change. They participated in sessions with the International Council of Nurses and global healthcare community WISH, and also had the opportunity to learn about the work of Sigma, the international nursing organisation.
Our meetings with them showed us how focused they are on evidence and research to underpin their practice, and how impatient they are to learn how they can make a difference. I could see they would be perfect candidates for the Nightingale Challenge, which led me to think:
'They are already demonstrating leadership – so just who will be leading whom when they bring all these qualities to their development programmes?'
As we start to make the Nightingale Challenge a reality, the learning we take away from this group will help inform how the talent and potential that already exists in our young nurses and midwives across the world can be nurtured and supported.
Investment like this is a simple and direct way of demonstrating that we value our future leaders and that we want to keep them doing what they do and make the amazing difference that they are already making.
Twenty million reasons
Since nurses and midwives account for nearly half (20 million) of the global health workforce, just imagine what an impact it could make on our goal of achieving universal health coverage when we recruit, retain, develop and value them as they deserve.
The spotlight will certainly be on our profession in the coming months- on May 24, the Assembly endorsed the WHO declaration that 2020 will be the Year of the Nurse and the Midwife.
Nursing Now works in partnership with the World Health Organisation (WHO) and the International Council of Nurses (ICN), both based in Geneva. As ICN chief executive Howard Catton says,
'It is a once in a generation opportunity for us to make a difference for the profession, to raise its profile, to increase investment and to show the world just what we can do to improve health for everybody.'
Learn more about the Nightingale Challenge here.
Meet our young nurses here.
*The 72nd Session of the World Health Organization's (WHO) World Health Assembly (WHA) took place Geneva, Switzerland from 20 – 28 May 2019 with delegations from all member states. Its role is to determine the policies of the Organisation, appoint the Director-General, supervise financial policies, and review and approve the proposed programme budget.