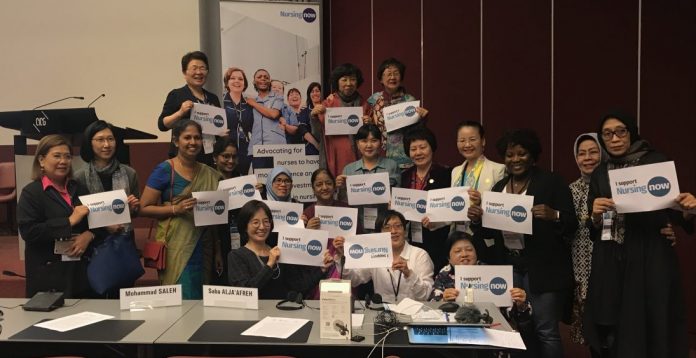 Nursing Now featured prominently during the Global Forum for Government Chief Nursing and Midwifery Offices and Triad meeting, co-hosted by the World Health Organization (WHO), International Council of Nurses (ICN) and International Confederation of Midwives (ICM).
In her keynote address, HRH Princess Muna al-Hussein gave the conference one of its key slogans: "Business as usual is not an option". Quoting our Co-Chair Lord Nigel Crisp, ICN's President Annette Kennedy shared another call to action with the many nurses and midwives gathered: "Stop talking to yourselves". This spirit of disrupting the status quo in order to enhance the influence of nurses was a driving force throughout the four days of meetings.
Following Lord Nigel Crisp's presentation on Nursing Now to the National Nursing Associations, he came together with campaign staff and board members Baroness Watkins of Tavistock, Dr Catherine Hannaway, Professor Sheila Tlou and Dr Francis Omaswa to speak to the full Triad meeting on Saturday 19.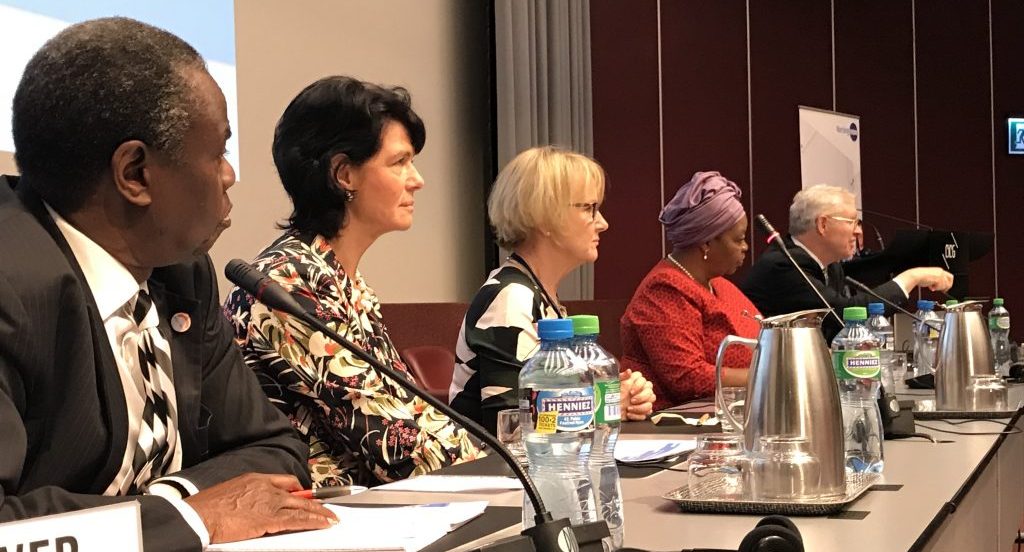 Left to right: Dr Francis Omaswa, Dr Catherine Hannaway, Baroness Watkins of Tavistock, Professor Sheila Tlou and Lord Nigel Crisp
Lord Crisp explained how the core Nursing Now team is setting out a global framework but that the campaign belongs to nurses themselves, all across the world. By the end of 2020, the campaign's success will ultimately depend on whether health has improved in the countries that got involved.
Acting Executive Director Catherine Hannaway highlighted how nurses and their supporters around the world have taken it upon themselves to organise activities to champion the campaign – something that has happened completely organically. Nursing Now has subsequently supplied group guidelines and resources to support their efforts.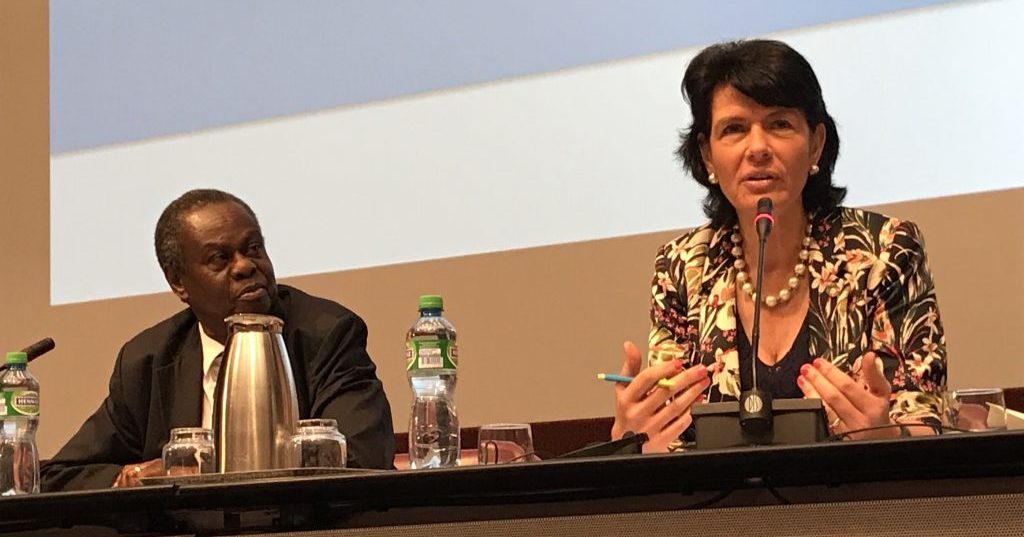 Dr Francis Omaswa with Dr Catherine Hannaway
Our Alternate Chair, Baroness Watkins of Tavistock brought the whole audience to its feet, focusing on mental health nursing and involving young nurses and men in her remarks. One of our Board members, Dr Francis Omaswa paid tribute to the activism of nurses in Uganda, where they have been on 'fire', even securing recognition from the president for their activities. Professor Tlou closed the session, calling on nurses to make it into parliaments to make gender-sensitive policies themselves.
During the Q&A session, we heard from the floor about how "Nursing Now is like a flower that has bloomed everywhere in Taiwan".
Overall, the four days of meetings showcased our joint advocacy with the ICN and ICM, calling for supporters everywhere to write in to the Noncommunicable Diseases (NCDs) Commission consultation spoke to the power of working closely together. ICN's Policy Director Howard Catton reported that he personally had seen submissions from 30 national nursing associations.
A number of stories shared over the course of the conference speak to the importance and impact of the Nursing Now campaign. For example, WHO Director of the Health Workforce, Jim Campbell, outlined Director General Tedros Adhanom Ghebreyesus's five commitments to nursing, including personally signing letters to all Ministers of Health calling for the increased participation of nurses in decision-making. Specifically, he called for the appointment of Chief Government Nurses and for them to attend the Triad meeting and be included in national delegations to the World Health Assembly.
In response, Norway and Sweden have recently appointed Chief Nursing Officers, helping move the world closer to our aim of 75% of countries having a Chief Nursing Officer or Chief Government Nurse as part of their most senior management team in health. Elizabeth Iro, WHO's Chief Nursing Officer, also announced that Professor Debra Thoms, Chief Nursing and Midwifery Officer for the Australian Government, will be the first nurse representative on the WHO Executive.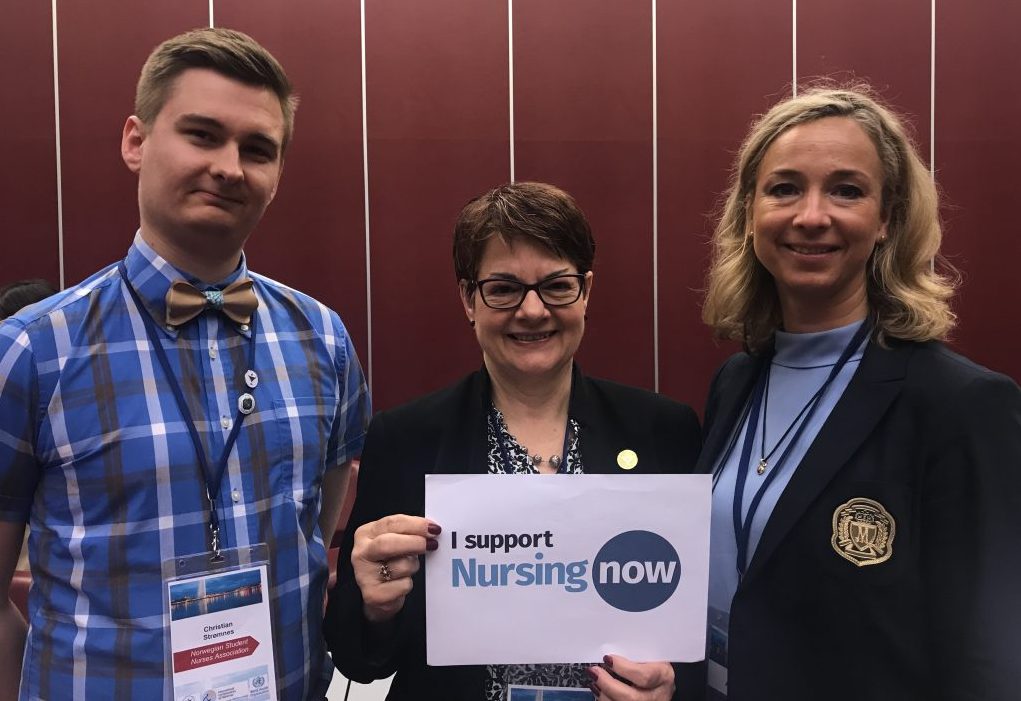 Left to right, Christian Stromnes: ICN intern; Karen Bjøro, ICN Vice President and Silje Anine Bell, Norway's new Chief Nursing Officer
During the Friday 18 proceedings, Dr Sumaya AlBlooshi outlined how the UAE's Ministry of Health and Prevention has incorporated Nursing Now's goals into its nursing strategic and operational plan. In her presentation, Nonhlanhla Jabu Makhanya, South Africa's Chief Nursing Officer spoke about her country's intention to take Nursing Now's aims forward at a national level.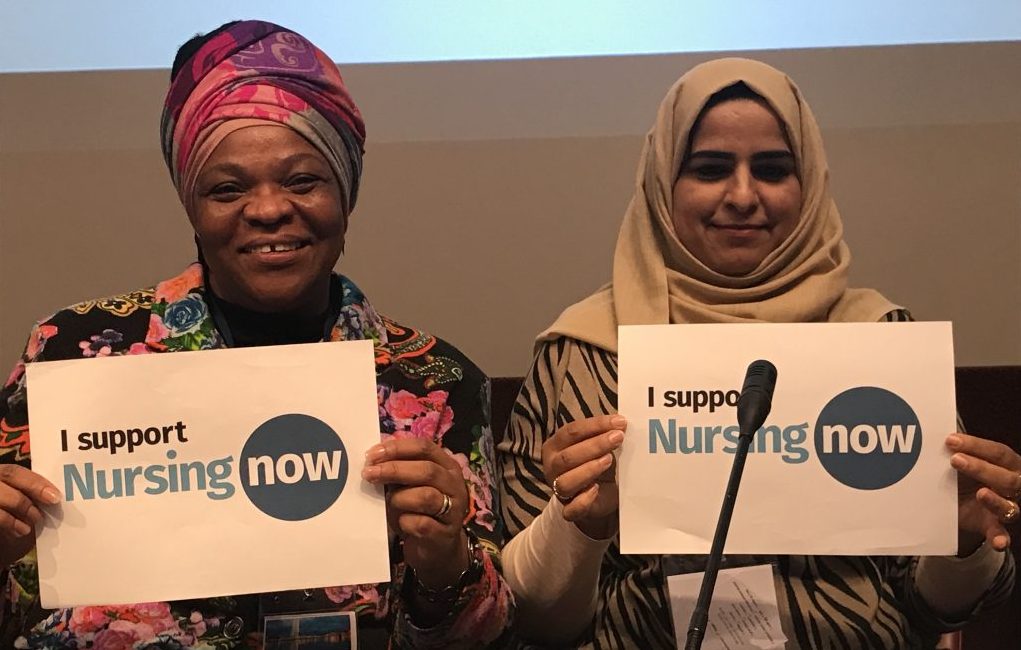 Left to right: Nonhlanhla Jabu Makhanya and Dr Sumaya AlBlooshi
The four key take-aways from the Triad meeting were as follows:
Nursing and midwifery is a good investment for universal health coverage, global health security and economic growth;
Elevate role of nursing and midwifery to the health policy agenda at national level and World Health Assembly;
Strengthen education, regulation, labour rights and practice environments in countries;
Maintain momentum through regular implementation, monitoring and accountability of Global Strategy on Human Resources for Health and Strategic Directions for Strengthening Nursing and Midwifery.