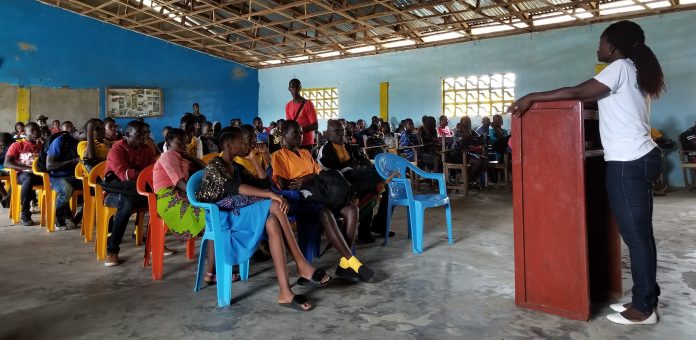 This case study was written by Laura Jean Ridge, Board President of Nursing For All.
Nursing for All
Nursing for All (NFA) is a small, nonprofit organization with a simple mission: to improve health globally by empowering nurses living in low income countries. NFA has operated in Liberia since 2013 via our Nurse-led Public Health Initiative Program (NLPHIP). The NLPHIP follows an innovative, nurse-centric model that provides services to people who need them.
From 2014 to 2015, Liberia faced the worst Ebola epidemic in history and nurses were on the frontline of that fight. In total, 4800 Liberians died from Ebola, including an estimated 8% of the country's health workforce. The NLPHIP not only remained operational throughout the crisis, it reached communities that others could not.
How Does It Work?
The NLPHIP provides Liberian nurses with the salary and supplies to operate their own public health initiatives, in their own communities. In the first instance, nurses must submit a proposal to request funding for their project.
A great example is  Delkontee King, an Emergency Department nurse and midwife, wanted to run a family planning initiative in the King Gray neighborhood of Monrovia, Liberia's capital. The initiative would offer free contraceptive services as well as open-air educational sessions for interested women. To run the initiative, Delkontee applied to work with NFA for twelve hours per week, and for a supply stipend for contraceptives, around $250 USD.
Delkontee King's application for the family planning project in King Gray was evaluated for its feasibility, relevance to Liberia's health priorities, and her personal qualifications and history of leadership. Not all applications are successful, but Delkontee's was.
Up and Running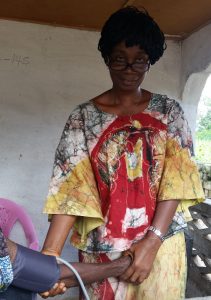 Once the application was accepted, the new, free services soon got started, and were met with great enthusiasm. In fact, Delkontee soon approached NFA about expanding the initiative to a nearby neighborhood, Kpelle Town. NFA happily agreed. One of the strengths of our model is that we can respond meaningfully to community input and scale-up projects that are proven to work.
In August 2014, as Ebola gathered momentum, NFA was able to cease nonessential programming, and begin intensive, Ebola-oriented initiatives in less than a month. The quick transition was the result of the Liberian nurse leaders' unanimous decision to change their focus to Ebola-oriented programming.
Programming was able to take on different forms, according to needs of the community. One nurse, Sophie Reeves, felt her neighbors would respond best to information provided by a non-clinician, due to fears of transmission. So Sophie trained local young adults to go door to door providing information about Ebola's symptoms and management.
Another nurse leader, Clinton Zeantoe, thought information would best be disseminated in local churches and mosques. Clinton went to over 30 churches and mosques, providing handwashing stations and teaching people how to recognize the disease. Other nurses' programming filled gaps created by Ebola. When a hospital shut down due to worker fatalities, Christina Andrews delivered essential medications to discharged patients' homes.
Further benefits of the model are firstly, it promotes nurse retention in Liberia by offering a supplemented salary and a major professional development opportunity in country. Secondly, it does not contribute to internal brain drain. Nurse leaders only work with NFA part time. In fact, prior to NFA, many nurses leaders worked in nursing education; the NLPHIP has provided them with an opportunity to resume direct patient care in a flexible way that works with their academic commitments.
Local connections: the key to effectiveness

NFA's local partners have been essential. Foremost are the nurse leaders themselves. Their local knowledge has been invaluable not only in refining their initiatives but in operating them smoothly.
One nurse, Aaron Debah, whose initiative provides mental healthcare, convinced a local hospital to donate unused office space to his program and to waive its fees for his services. It is thanks to their expertise that NFA has been so successful: in our five years of operation, NFA has provided services to over 5880 people.
Another critical partner has been the Liberian Board of Nursing and Midwifery (LBNM). The former Chairperson of the LBNM was in NFA's first class of nurse leaders. The LBNM furnishes NFA with up-to-date information on the Liberian nursing landscape and is a critical programmatic advisor.
Contact Us
For further information on Nursing For All, please visit their website or contact the Board President, Laura Jean Ridge, at ljridge@nursingforall.org.