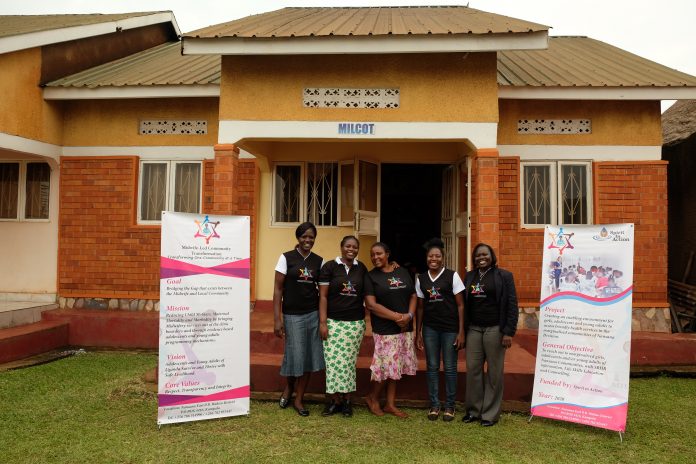 This blog was written by Professor Lisa Bayliss-Pratt, Programme Director for the Nightingale Challenge, following a recent trip to Uganda for the Nursing Now Regional Meeting in Kampala.
The Nursing Now campaign was born out of determination to ensure the delivery of Universal Health Coverage (UHC) by supporting the work of nurses and midwives, allowing them to practice to the top of their license, and providing them with the skills, and opportunities to make UHC a reality. To date, there are 587 Nursing Now groups registered in 117 countries around the world, each with the shared goal to promote the role of nurses and support the global ambition to provide access to health to everyone, everywhere.
In June 2019, Nursing Now challenged employers of health workers everywhere to invest in their young nurses and midwives. The Nightingale Challenge boldly put the spotlight on the potential of young nurses and midwives, and the importance of providing them with leadership skills early in their career. 
The Nightingale Challenge asks employers, and the nursing and midwifery profession to consider taking the young nursing and midwifery workforce more seriously by investing in their early years career development. As part of this training, early career nurses and midwives are able to develop their leadership, advocacy and nursing practice knowledge and skills,  while also building their confidence and capability. With an ever-growing demand on health service provision, these skills will be increasingly required by all health-workers, especially nurses and midwives who are often the most frequent point of access to health for many people.  
From statistics to sustainable change
Every Friday, the latest Nightingale Challenge statistics are published, often showing significant uptake of the Challenge around the world. In fact, since its launch in June 2019, the Nightingale Challenge has succeeded in ensuring leadership development training for over 26,000 nurses and midwives from 70 countries. While these updates are encouraging, the validation that the Nightingale Challenge is succeeding in championing change in nursing and midwifery around the world, was never more evident to me than during a recent trip to Uganda.
I recently attended the Nursing Now Regional Meeting in Kampala, Uganda. This was an excellent opportunity to visit a Nightingale Challenge 'early adopter' – the Mulago Hospital. I was also able to meet with Nursing Now Young Nurse, Harriet who attended the 2019 pre-WHA Workshop and is participating in the Nightingale Challenge. My time talking to the nurses and midwives involved in these Nightingale Challenge programmes was inspiring. Their motivation and passion to create positive change was striking and made me realise that with the launch of the Nightingale Challenge, we really did initiate a global tool for change that is not only delivering impressive numbers, but is also having a very real impact on the ground, in hospitals and communities. 
The Nightingale Challenge – supporting grassroots programmes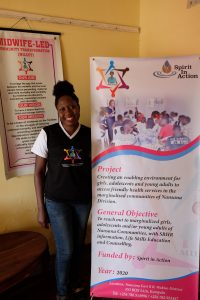 It was a real privilege to meet up with Harriet Nayiga again, this time in her professional environment at the MILCOT headquarters in the outskirts of Kampala. Harriet and I first met at Nursing Now's pre-WHA Workshop event in Geneva 2019. Harriet is a young midwifery leader on so many levels, and works within her community to provide reproductive health education and services to young women and families. Her mentor, Dr Grace Edwards, Professor of Midwifery Education and Practice from the Aga Khan University explained, "I've learned so much from Harriet, I really have. How she's utilised her passion and her interpersonal skills with no real resources, but she's growing a beautiful community here and she's really making a difference." 
The Mulago Hospital was one of the first organisations to accept the Nightingale Challenge and implement a leadership development programme for its young nurses and midwives.
Mulago hospital is a national referral hospital in the northern part of Kampala, founded in 1913. It serves as a general hospital for the Kampala metropolitan with 1,500 beds. It also acts as a teaching hospital for the Makerere College of Health Sciences with a mission to provide super specialised healthcare, training and conducting operational research in line with the requirements of the Ministry of Health. 
Changing perceptions within the nursing workforce
I was able to meet with nurse leader, Beatrice Amuge, who talked to me about the tangible change that she is witnessing as a result of the Nightingale Challenge. I was delighted to hear that she had not only embraced the development of the Mulago Nightingale Challenge programme for her young nurses; but that she also felt that as a result of being directly engaged with the young nurses at the hospital and realising the potential they had, she was challenged to change her perceptions and the way she practices nursing.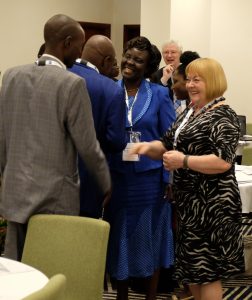 "I have accepted the Nightingale Challenge 2020, why? Because it is going to raise up the profile of the young nurses … It is going to give them the knowledge and the skills, the passion, and be able to lead and to advocate and to lobby for the resources for the services and for the profession and most especially for the work of the nursing care given to patients," Beatrice Amuge, Nurse leader, Mulago Hospital, Kampala.
The Nightingale Challenge: a true Challenge for change
My short time spent in Kampala was rich with inspirational meetings with people who are truly passionate about providing the highest standard of care for their patients. I had the privilege of being amongst significant health leaders in both policy and practice, and what struck me the most was that within the sphere of the Nightingale Challenge, all levels were being listened to and felt able to contribute, from young midwives such as Harriet, through to powerful nurse leaders like Beatrice. 
I was keen to understand what the Nightingale Challenge "Friday afternoon statistics" looked like in reality, and this experience gave me invaluable insight into the impact that is being made as a result of this initiative. This experience left no doubt in my mind, that The Nightingale Challenge is most definitely a Challenge for change!