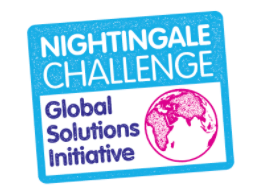 Since its launch in June this year, the Nightingale Challenge Global Solutions Initiative (NCGSI) has provided the opportunity for nurses and midwives around the world to connect, share experiences and develop innovative solutions to ongoing global health challenges.
Our first two challenges have focussed on brain injury recovery and empowering communities to create and sustain health. For each challenge, we collaborated with experts in these fields to provide regular webinars and share resources to inspire, motivate and support participating nurses and midwives. 
"SameYou were keen to participate in the first Nightingale Challenge Global Solutions Initiative as we knew it was a unique opportunity for nurses to make a purposeful change to the pathway of care in brain injury recovery. We are proud to support the enhancement and leadership training of our nurses globally," Jenny Clarke, CEO, SameYou.
SameYou are now providing mentoring for the winners of the first NCGSI challenge with the aim of supporting them to implement their solution.
"Winning this means a great deal to me and for that, I am grateful to Nursing Now and SameYou for organising this challenge. This is definitely a right step for me as a future nurse and I am very excited about how far our solution will go in promoting health of brain injury patients in Ghana and beyond," Emmanuella Adomako Bempah.
Most recently a team of seven Indonesian nurses won the challenge set by Lord Nigel Crisp and Salus Global Knowledge Exchange, to create innovative initiatives to empower communities to create and sustain health.
"It is an honour for us to be selected as the winners of the Nightingale Challenge Global Solutions Initiative. Implementing our proposed solution which aims to improve access to care for the community will be another challenge for us. We are looking forward to discussing our solution with the Nursing Now and Salus Global Knowledge Exchange teams. Health is not a privilege, health must be for all!", explained young nurse and winning team member, Alenda Dwiadila Matra Putra.
In addition to presenting their solution at this year's Healthy City Design Congress, Alenda and his team will also benefit from a mentoring session with Lord Nigel Crisp and have their paper published in the Salus Global journal. 
"I am delighted with the response to the NCGSI. It's so exciting to know that there are so many early-career nurses with entrepreneurial skills and aspiration who are all passionate about delivering the highest possible person-centred care", said Professor Lisa Bayliss- Pratt, Programme Director, Nightingale Challenge. 
The next NCGSI challenge will be launched next year in partnership with Jane Clarke, Founder of Nourished by Jane Clarke.
"Throughout my entire career I've witnessed the astounding work that nurses and midwives do to care for the vulnerable in society. For me, what feels incredibly exciting is to be able to tangibly create world-wide societal change through people power, by empowering and inspiring this next generation of nurses to know how to Nourish those they care about and to also know how important it is to look after themselves. When I worked with Jamie Oliver on the amazing school meals project, we witnessed how passionate society can become when an issue is highlighted and I believe with Nourish and the NCGSI we can truly change the lives of those we care about."
Stay tuned for more information!
What is the NCGSI?
The Global Solutions Initiative is a new project from the Nightingale Challenge created to connect young nurses and midwives around the world to share ideas and encourage nurse and midwife-led innovations that resolve global health issues. 
The NCGSI aims to:
Facilitate global interaction and partnerships between nurses and midwives  

Encourage the development of practical nurse and midwife-led solutions globally, thereby supporting the career development of participating nurses and midwives 

Provide a space for nurses and midwives to share expertise and demonstrate the power of their knowledge through their innovative solutions to every day global health challenges 

Raise awareness of global health issues and develop bold, practical ideas to improve public health.
How does it work?
The NCGSI works with a partner organisation to identify a theme for the challenge. Over two months, participants are provided with resources relevant to the chosen thematic area, including articles and webinars that will help them develop their solution. At the end of the two months, participants submit a concept note which outlines their solution to be judged by a panel of global health experts. The winning solution will receive recognition from Nursing Now, the Nightingale Challenge and partners. 
How do I get involved?
If you are interested in participating in the NCGSI, join our Facebook group and stay tuned for information about the next challenge, coming in January 2021.