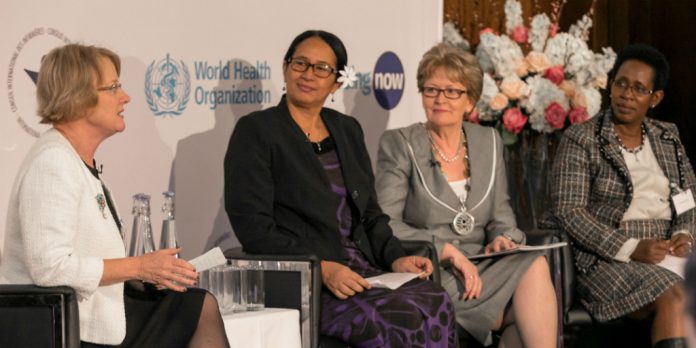 On Tuesday 27 February, Nursing Now held launch events and activities across the world, including the UK, Switzerland, Jamaica, USA, Jordan and South Africa. More than 30 countries were represented and people pledged their support and joined the campaign from around the world.
Nursing Now is a three-year campaign being run in collaboration with the International Council of Nurses and the World Health Organization. Leaders from all three organisations joined the launches.
Highlights from our global launch events in London and Geneva can be found on our Twitter pages with the event recording viewable below:
Lord Nigel Crisp, Nursing Now Co-Chair, welcomed all those involved and explained, "The campaign is based on a simple premise: nurses and midwives make up half the professional health workforce globally and we can't achieve universal health coverage without them."
Annette Kennedy, President, International Council of Nurses said: "The International Council of Nurses is proud to be part of Nursing Now. Through our 133 national nursing associations, we know of the great work nurses are doing to deliver care and improve health, but we also know how tough their working lives can be. Nurses are the answer but we need real investment and support."
Dr Tedros Adhanom Ghebreyesus, Director-General, World Health Organization said: "Nurses are bridges with our communities and our families. They're leaders and innovators. …This launch will not be a one-day event, it will be a daily activity."
They were joined by representatives from a wide range of countries at the events and via social media including the Bahamas, Canada, Jordan, Norway, Singapore, South Africa, Thailand, Uganda, the UK and the US.
Her Royal Highness Princess Muna Al-Hussein, Princess of Jordan said: "We cannot make progress on universal coverage or the SDGs without motivated, competent health workers."
Dr Diana Atwine, Permanent Secretary, Department of Health, Uganda said: "Nurses don't speak out because they are too busy working. We need to the nurses to come out and speak."
At an event in Durban involving several African countries, Thembeka Gwagwa, Second Vice-President, International Council of Nurses said: "Nurses in Africa are watching and actively working hard to support the goals of this campaign. …Today, we are visible, vocal and valued. We are a voice to lead."
At an event in the US, Barbara Stilwell, Senior Director of Health Workforce Solutions, IntraHealth International said: "We think [Nursing Now] is a great opportunity to look at nursing today and… to look at where we're going and what we can contribute to universal health care."
Harriett Baldwin MP, Minister of State for Africa at the Foreign and Commonwealth Office and Minister of State for International Development, UK said UK Aid will, "support the training of nurses and midwives in developing countries, to improve the quality of care, keep their own patients healthy and save more lives." The Minister announced £5 million for nurses and midwives as part of the wider DFID health partnerships scheme that supports work in developing countries.
HRH Duchess of Cambridge was announced as Patron of the Nursing Now campaign. The Duchess met with nurses from different countries at various stages in their careers to hear first-hand about the positive impact the Nursing Now campaign could have on the profession. In her speech, The Duchess said: "I would like to congratulate and thank all nurses everywhere on what you achieve on a daily basis. The difference you make should not go unrecognised"
Elizabeth Iro, Chief Nursing Officer, World Health Organization said: "Nurses and midwives are already leaders in delivering care: the next step is to put them at the heart of health policy making." She was joined by a large number of nurses keen to speak to her about her new role.
If you haven't already, please add your signature to pledge your support to the campaign and encourage your networks to do the same. You can also sign up for further updates on Nursing Now.
Spread the word on social media, using our toolkit, and like us on Facebook and follow us on Twitter.
We're also keen to showcase your events, case studies, educational opportunities, advocacy and any other nursing-related activities. Tell us about your plans and we'll share them on our global activity map. We'll also feature a select number of examples of effective practice on our Case studies page.