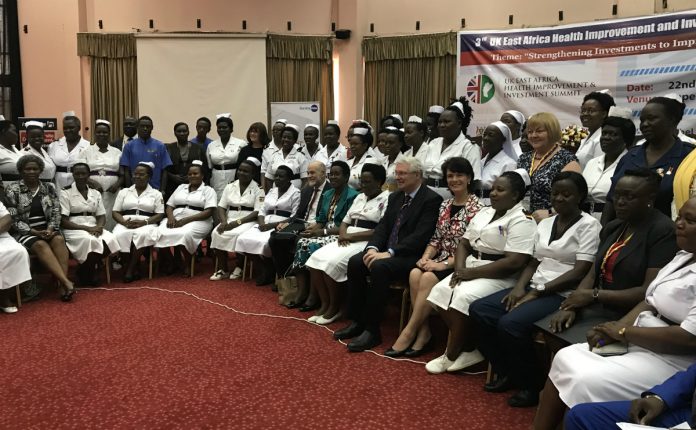 Nursing Now Uganda was launched on 22 March as part of the 3rd UK-East African Healthcare Summit, which took place in Kampala, Uganda. Our Co-Chair, Lord Nigel Crisp, gave the Summit's keynote address. More than 100 nurses from Uganda and neighbouring countries, many in uniform, joined the conference audience for the launch.
Lord Crisp and Dr Catherine Hannaway from Nursing Now's central team started the afternoon launch session with an overview of the global campaign. Dr Hannaway set the tone for the session by describing her own experiences of nursing and asking if the nurses and others in the room were ready for the challenge. "We are," she was told, "we are ready".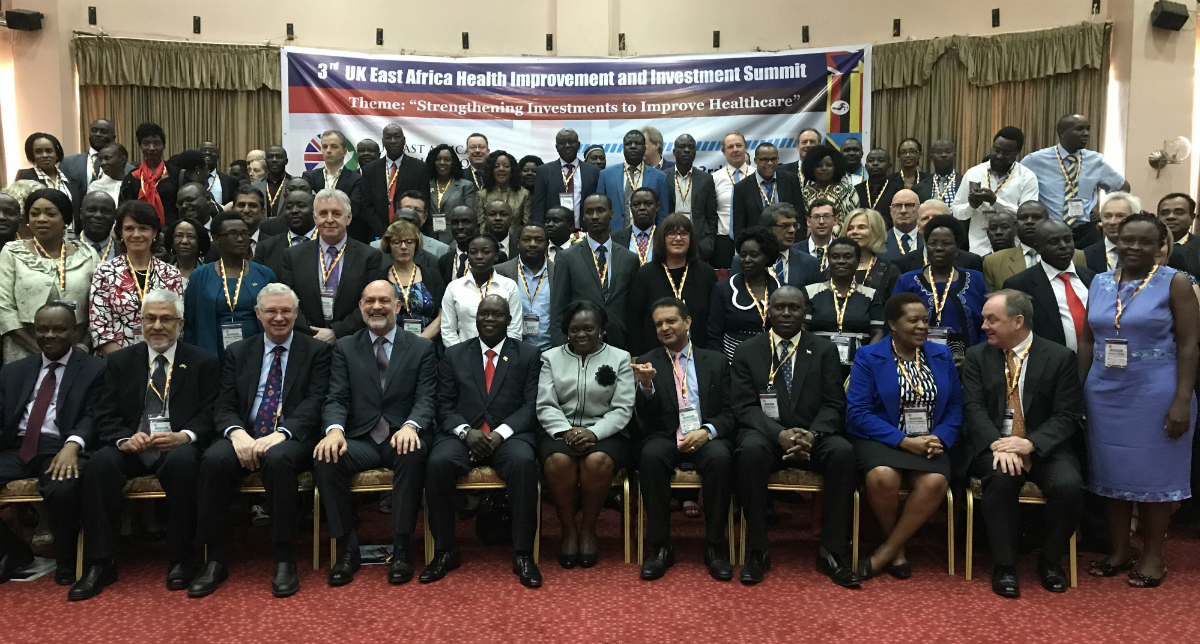 Dr. Rose Nanyonga, Vice Chancellor of the International Health Sciences University went on to outline the road map for Nursing Now Uganda. She spoke passionately about the many difficulties that nurses and midwives faced in Uganda from overwork to poor support to inadequate equipment.
Dr Nanyonga went on to describe how these challenges could only be resolved with a new approach and a fresh set of policies. The road map for improvement focuses on education, regulation, policy and improved practice. She said it would require nurses everywhere to lead changes but would also require support from Government and other agencies. The road map aims to enable nurses and midwives to succeed everywhere from the bedside through to the board room.
Representatives from IntraHealth International, Jhpiego, THET, UNFPA and WHO all paid tribute to the remarkable role played by nurses and midwives in Uganda and pledged their support for the campaign in Uganda. Peter Johnson of Jhpiego captured the spirit of the launch when he said we are ready to take on the challenge and provide whatever support we can.
The national campaign was formally launched by Sarah Opendi, Uganda's Minister of Health for General Duties, who said that the government was fully behind the campaign and was working towards the improvements needed, including increased numbers and improved remuneration.
A highlight of the launch came at the end of the session, when the Ugandan nurses stood and sang the nurses' anthem.
Reflecting on the launch, Lord Crisp remarked "this was a powerful and emotional launch with obvious energy and commitment from nurses and their many supporters including the government. It was a privilege to be here and a great experience to hear the nurses singing so passionately about their commitment to their profession."
For more information, please contact Paul Ahura, THET.