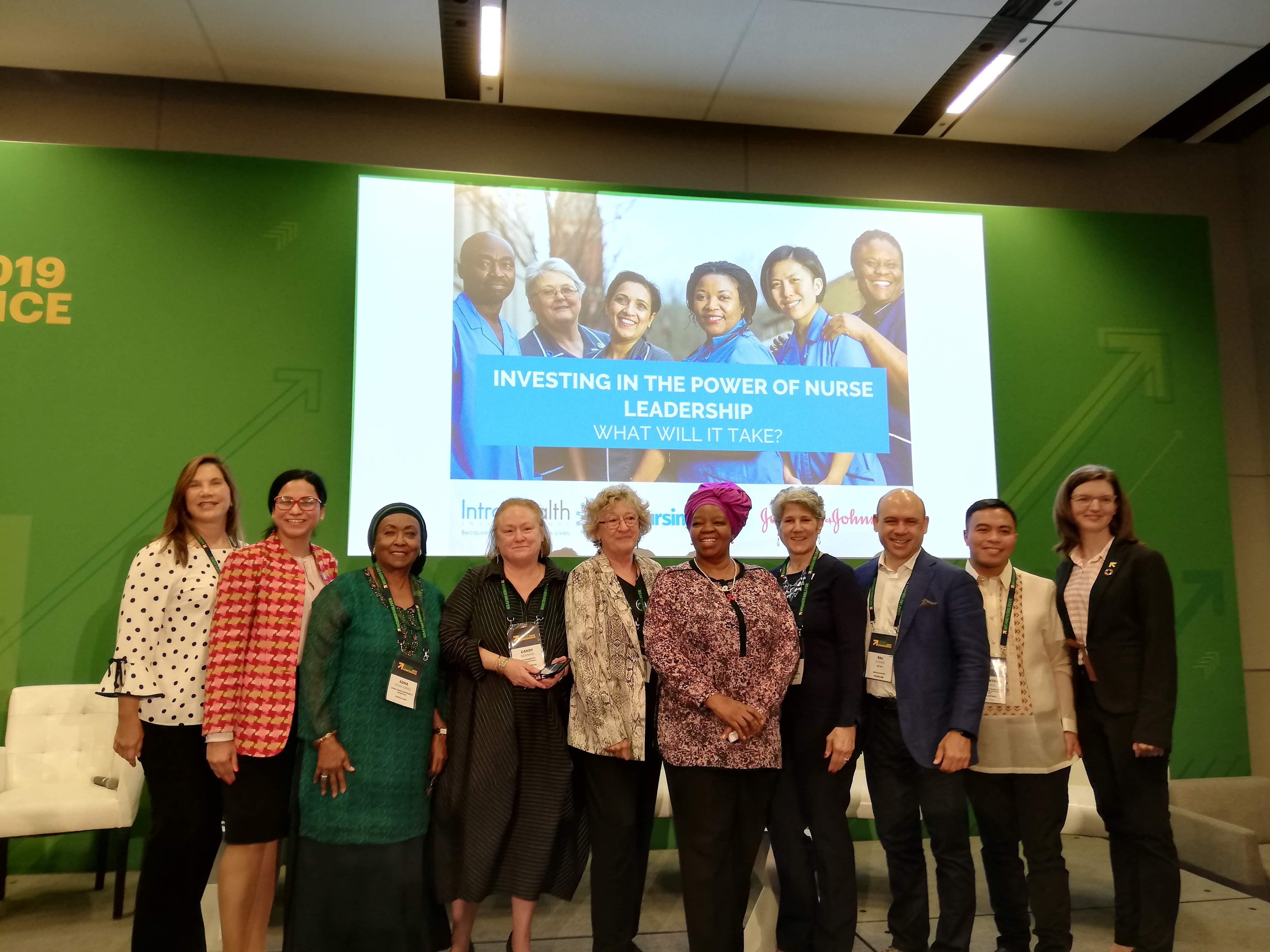 The world's largest conference on gender equality just wrapped up in Vancouver, Canada, with nurses, midwives and the health workforce championed as the backbone of health systems and entire countries. With participation from heads of state from Canada, Ethiopia, Kenya and Ghana, and major feminist funding commitments rolling in throughout, it was a powerful week of advocacy for the health, rights and well-being of girls and women.
On the main plenary stage, as well as in countless side events and conversations, health workers came up as key drivers of Universal Health Coverage and nurses and midwives at all ages were given a platform to speak about their experiences. Representing Nursing Now, Dr. Barbara Stilwell and Prof. Sheila Tlou brought the campaign to Women Deliver, calling for greater investment, respect and recognition of nurses and midwives as leaders ahead of 2020, the Year of the Nurse and the Year of the Midwife.
Nursing Now launched the report: Investing in the Power of Nurse Leadership: What Will It Take? with IntraHealth and Johnson and Johnson. This report detailed the experiences of over 2,500 nurses around the world.
At an event on the under-recognised power of women across the health workforce, Dr. Roopa Dhatt grounded the discussion in the gender-based dynamics holding women back. Highlighting a report on gender-transformative policies for the global health workforce, she called for fair and equal pay, decent work conditions and an end to the glass ceiling preventing women health workers from achieving leadership positions within health, as well as across governments and sectors.
"We are not here to fix the nurses. We are here to fix the systems that promote gender bias, discrimination and sexual harassment." – Dr. Roopa Dhatt, Women in Global Health
The audience also heard from Stéphanie Roche, a young nurse-midwife from Haiti, who said, "One day a midwife will be a Member of Parliament or Minister of Health. This ambition is what gives us life – we need to dream to achieve our hopes."
Women Deliver advocates also heard from Edna Adan, a nurse-midwife and former Foreign Minister of Somaliland who has trained over 1,000 nurses to build the country's health system from the ground up. Speaking alongside health workforce leaders from Mali, Ethiopia, Pakistan and Vancouver Island's aboriginal community, she highlighted Female Genital Mutilation/Cutting prevention and other efforts nurses and women health workers are leading the way on.
"I am proud that nursing has become a very highly respected profession today [in Somaliland]. People say to me 'My child wants to be just like you,' and I say, 'No, better!'" – Edna Adan, Edna Adan Foundation
Women Deliver 2019 was a week to remember. As Katja Iversen, President/CEO of Women Deliver, says, this conference was not the culmination but a fueling station for our combined efforts to achieve a gender equal world. Nursing Now is proud to be a part of this strong community of advocates, leaders and partners, and we hope to tap into its collective power to raise the profile of nurses and midwives globally, heading into 2020.