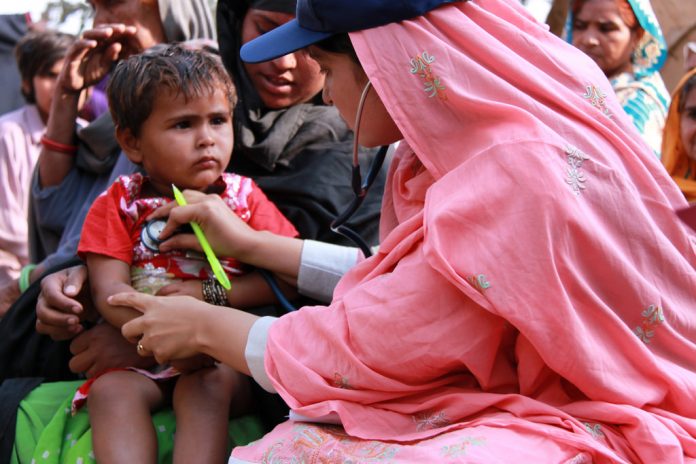 Mobile health clinic in Sindh, Pakistan. Credit: DFID/Vicki Francis
Pakistan's Government has announced that it will establish a National Nursing Forum, which it aims to link with Nursing Now's global campaign.
The Forum will be housed in the Ministry of National Health Services, Regulations and Coordination, which will lend its support in turning the Forum's recommendations into policies. The creation of the Forum was supported by Dr Assad Hafeez, Pakistan's Director-General of Health and Nursing Now board member.
In a statement, Federal Health Minister Muhammad Yusuf Shaikh said, "nurses are an integral part of health teams, playing a crucial role in health promotion, disease prevention and treatment".
Echoing Nursing Now's central objective, the Forum aims to raise the profile and status of nurses in Pakistan. It will also work to: break taboos around nursing, encourage women to join the profession, share resources and facilitate collaboration.
Going forward, a national meeting of stakeholders will be organised to unveil the Forum's vision. In addition, sub-national groups will be set up and provincial meetings involving local nursing societies organised. The Government will hold deliberations focused on how to enhance the status of the nursing profession through incentivising nurses' involvement in policy making.
Welcoming the announcement, Lord Nigel Crisp, Nursing Now's Co-Chair, said, "We are thrilled to see how the Nursing Now campaign has achieved such global momentum and we congratulate Pakistan for setting an example on how governments can champion nursing."
Pakistan's government issued a press release marking the announcement, which secured media coverage, including in the Daily Times, The News International, The Express Tribune and UrduPoint.