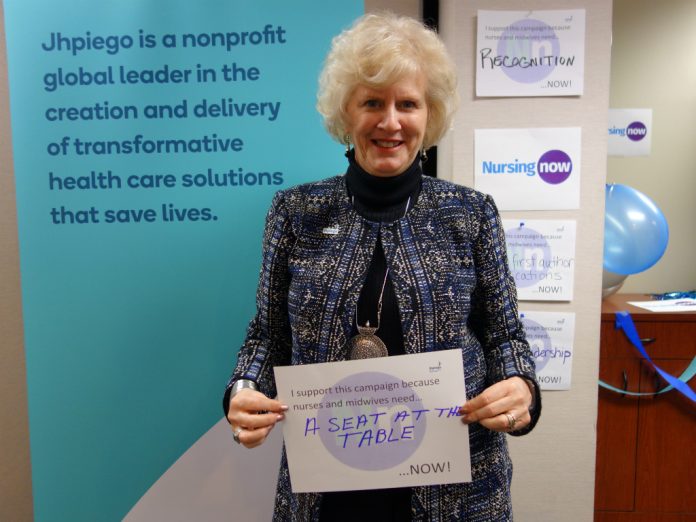 Jhpiego President and CEO, Dr. Leslie Mancuso, Phd, RN, FAAN.
11 May update
Jhpiego has launched a new nursing microsite, which celebrates nurses' work around the world, showcasing them as leaders, healers, innovators, mentors and educators.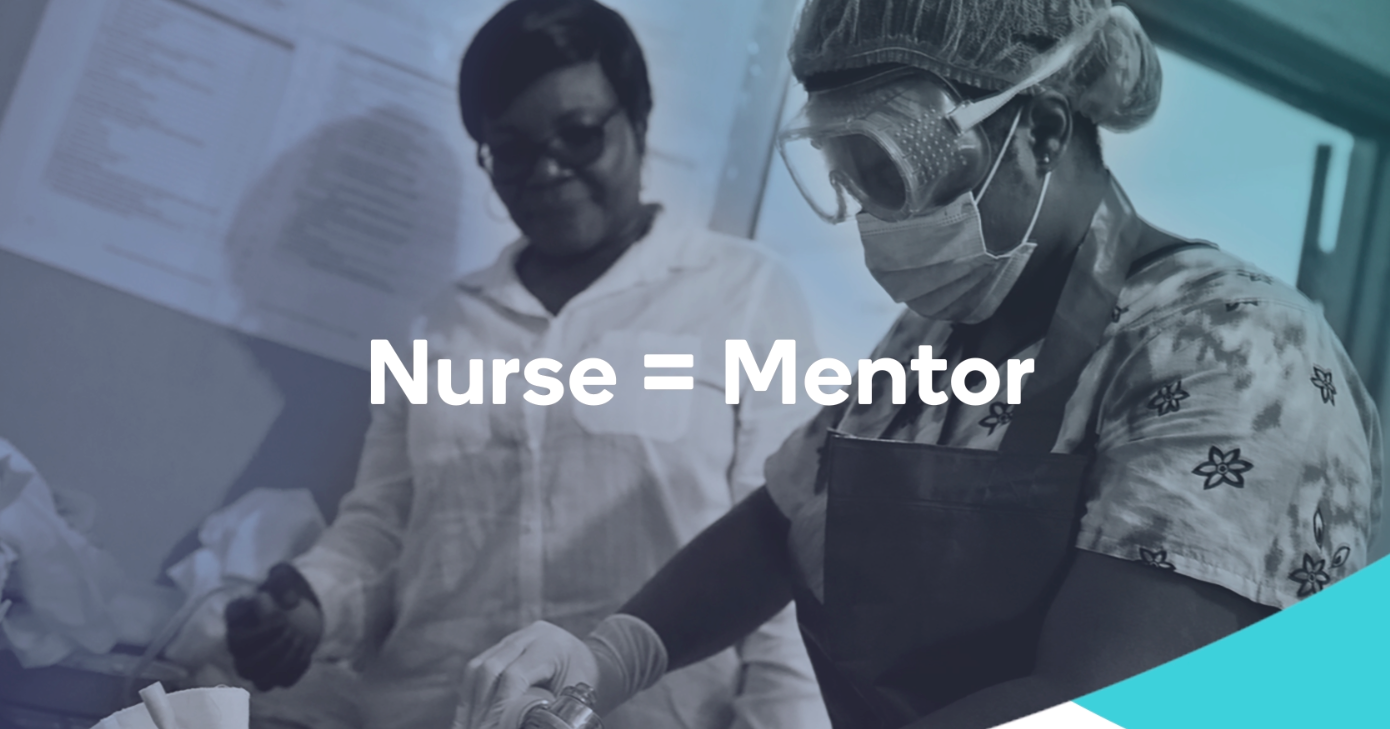 ---
4 April
Nurses from seven countries joined Jhpiego's President and CEO, Dr Leslie Mancuso, in celebrating the global health non-profit's launch of Nursing Now in Baltimore, USA.
Dr Leslie Mancuso, who is a nurse, and Dr Catherine Hannaway, Nursing Now's Acting Global Campaign Executive Director, opened the festivities at Jhpiego's US headquarters during World Health Worker Week. Nursing Now's aims were highlighted, with an emphasis on increasing investment in the professional advancement of nurses and clinical nursing practice.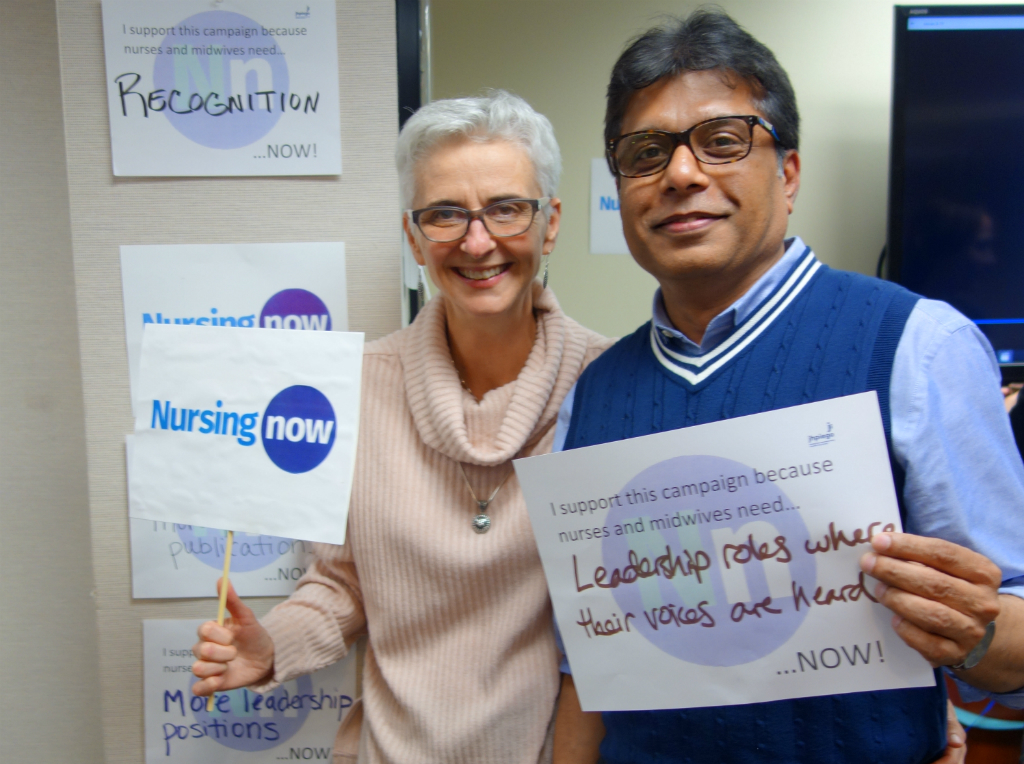 Left to right: Debora Bossemeyer, BSN, MSED, Jhpiego's Vice President for Global Programs, and Dr. Nabeel Akram, Asia Regional   Director
Over 80 Jhpiego team members from Baltimore and around the globe (Rwanda, Ethiopia, Kenya, India, Lesotho, Tanzania, Uganda, Botswana, Côte d'Ivoire and the United Kingdom) shared messages showing why they support the campaign.
Dr Peter Johnson, Senior Director of Nursing and Midwifery at Jhpiego, talked about the synergy between the campaign and Jhpiego's nursing initiative:
"Nursing Now is strongly aligned with our Jhpiego Nursing and Midwifery strategy. Let us work together to leverage the alignment with this important global advocacy campaign to ensure that our nurses and the nurses that we work for have the power and agency needed to make a lasting difference."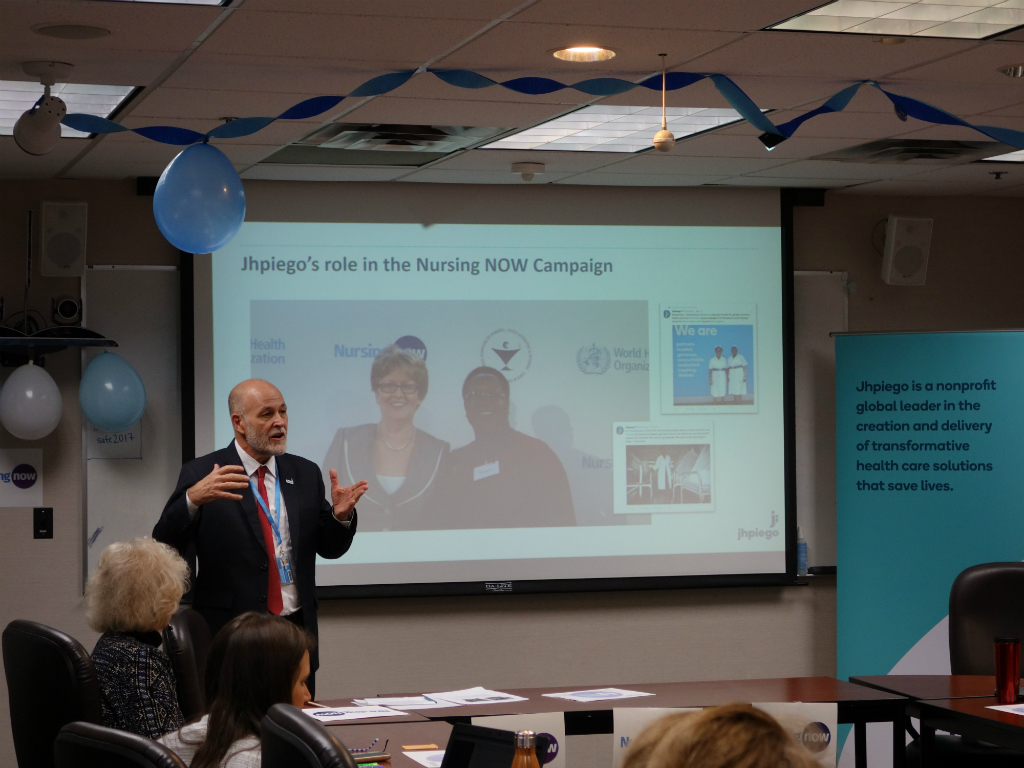 Dr. Peter Johnson, Senior Director of Nursing & Midwifery at Jhpiego and a midwife, introduces the campaign at Jhpiego's Baltimore   launch.
Jhpiego is one of Nursing Now's campaign partners and has been engaged in the campaign since its global launch on 27 February. Jhpiego's Emily Katarikawe, Uganda Country Director, participated in the London launch event and demonstrated great leadership in mobilising her country office to support the successful country-level Nursing Now launch in Uganda on 22 March. Jhpiego is committed to championing Nursing Now and driving forward its important mission to raise the status and profile of nursing, empowering nurses and midwives globally to take their place at the centre of tackling 21st century health challenges.