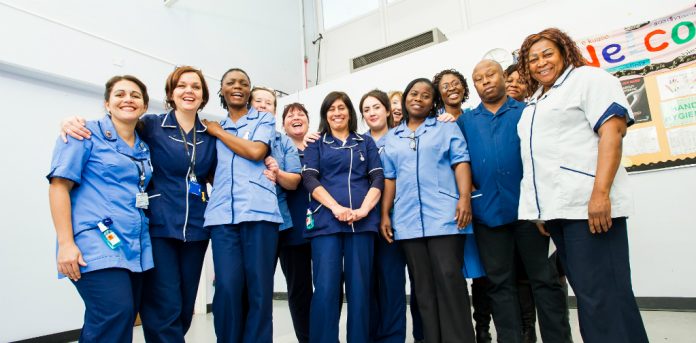 On Tuesday 27 February, Nursing Now will hold launch events and activities across the world. Activities are planned in the UK, Switzerland, Jamaica, USA, Jordan and South Africa – among other countries.
Highlights from our global launch events in London and Geneva will be livestreamed from both our Facebook page and this page from 1pm GMT on 27 February.
Today, we're delighted that Kensington Palace announced that Her Royal Highness The Duchess of Cambridge will become Patron of Nursing Now.
Lord Nigel Crisp, Co-Chair of Nursing Now, said: "On behalf of Nursing Now supporters across the world I am delighted to welcome HRH The Duchess of Cambridge as our Patron. Our campaign aims to improve health globally by raising the profile and status of nurses worldwide – influencing policymakers and supporting nurses themselves to lead, learn and build a global movement. 
"We are delighted to have a Patron with such a strong commitment to nursing and a history in her family of volunteer nurses. We look forward to working with Her Royal Highness as we support nursing and nurses across the world."
Following introductions by Nursing Now's Lord Nigel Crisp and Dr Catherine Hannaway in London, three speaker sessions will be livestreamed, the first and last in London and the second in Geneva. We are delighted that HRH The Duchess of Cambridge is also due to join us in London.
Biographies for all of our speakers in London can be downloaded here, biographies for the Geneva event can be downloaded here.
Strengthening Nursing Across the Globe: 'What the Nursing Now campaign means in different parts of the world': 
Dr Karen Bjøro, Second Vice President, Norwegian Nurses Organisation (Chair)
Harriett Baldwin MP, Minister of State for Africa at the Foreign & Commonwealth Office and Minister of State for International Development, UK
Rosemarie Josey, Past President, Nurses Association of the Commonwealth of The Bahamas
Catherine Odeke, Chief Nurse and Commissioner of Nursing and Midwives, Uganda
Dr Kanjana Chunthai, Director, Government Chief Nursing and Midwifery Officer, Thailand
Nursing Now: perspectives from Geneva
Professor Sheila Tlou, Co-Chair, Nursing Now (Chair) 
Mr Bertrand Levrat, Director-General, Geneva University Hospitals, Switzerland
Her Royal Highness Princess Muna Al-Hussein, Princess of Jordan
Professor Thomas Kearns, interim CEO, International Council of Nurses
Dr Tedros Adhanom Ghebreyesus, Director-General, World Health Organization
Translating Nursing Now into Global Action
Baroness Mary Watkins, Alternate Chair, Nursing Now (Chair) 
Elizabeth Iro, Chief Nursing Officer, World Health Organization
Annette Kennedy, President, International Council of Nurses
Dr Diana Atwine – Permanent Secretary, Department of Health, Uganda